England Lockdown: Can Tradespeople Work in my Home?
As the new lockdown rules come into force in England today, you may ask yourself what this means for tradespeople working in your home. If you are due to have work carried out soon, you will need to understand the government advice and safety measures in place.
The government has confirmed that in England, tradespeople can enter a customer's home to complete work, this includes repairs, maintenance and home improvements such as oven cleaning.
FAQs: Can a tradesperson enter my home in England?
Yes. Tradespeople, including oven cleaners, can still work in your home. Our oven cleaning specialists are following strict government safety advice to create a safe environment for everyone.
These safety measures include, but are not limited to:
Specialists can quote your clean and book your appointment online or over the phone.
Your local specialist can text or call you when they arrive at your property, so that all you have to do is open the door. You can choose to retreat to another room and continue communication from a distance.
Specialists will always maintain a safe two-metre distance.
Specialists will wear appropriate PPE including masks, gloves, coveralls and over shoes when necessary.
Your local specialist will disinfect/wipe over areas they come into contact with.
Where possible specialists will operate on a paper-free basis, meaning cashless payment, and online invoices.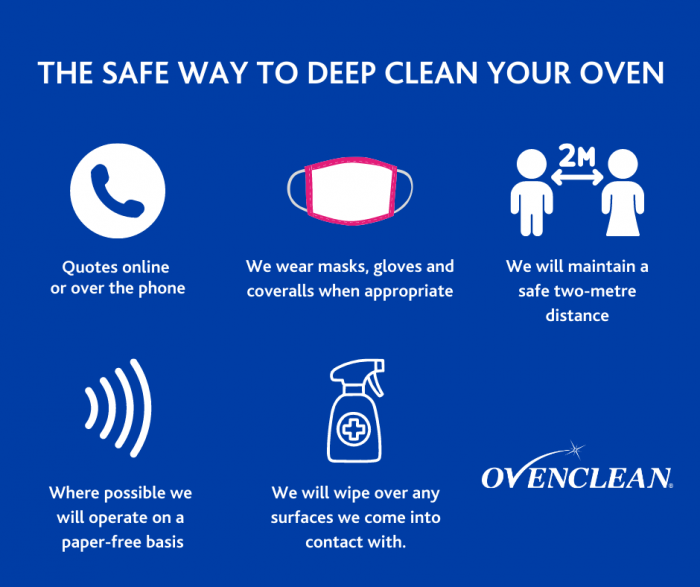 How can I stay safe while the oven cleaner is working in my home?
Before your specialist arrives, speak to them about the how they would like the appointment to go. For example, they may ask you to open the door and then retreat to another room until the clean is complete.
Prepare your home by opening a window for ventilation if you wish.
Maintain a two-metre distance between you and the specialist while they are at your property.
Let your specialist know if you or a member of your household begins to develop symptoms of coronavirus before your appointment and they will rearrange for a suitable time to complete the clean once it is safe to do so.
For more information on the government's latest guidance, please click here.