Spookily-Mummified Cupcakes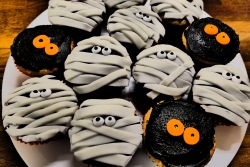 As Halloween approaches, half term has crept up on us too. We've got plenty of hints and tips to keep your children occupied this half term on our Facebook. Here is one of our favourites…
…Spookily-mummified cupcakes!
Ingredients
Equipment
12 Cupcake cases
Cupcake baking tray
Method
Preheat the oven to 180°C and line a baking tray with 12 cupcake cases.
Cream together the butter and sugar until light and fluffy.
Add 1 egg at a time with a little flour and fold together. Continue until all eggs and flour have been added.
Add the vanilla essence and fold through the mixture.
Divide the mixture equally between the cupcake cases and bake for 20 – 25 minutes. (You'll know they're done once they are a light brown colour and spring back up when you press the top slightly).

Remove from the oven and leave to cool completely.
Once cooled you can start decorating! Roll out the white fondant until it's around 2 – 3mm thick and cut into long strips – we used a pizza cutter! You can then cut the strips into smaller ones so they are the length and width of the cupcake.

Using a knife or spatula spread the black frosting over the cupcake and start layering the white fondant strips on top to get the mummy effect. Leave a small area uncovered by the icing strips.

In the uncovered area press, the fondant eye candies in, as if the eyes are looking through the bandages.
Don't worry if the bandages are over-hanging the cupcakes, you can simply cut around once finished and discard of any trimmed pieces.
Enjoy!