Since joining the network in 2014, husband and wife team Dean and Amy Wilson are thrilled they took the leap into self-employment. With their diary booked up 1-2 weeks in advance, doing 3-4 jobs per day, they are already benefitting from 75% repeat customers and word-of-mouth recommendation!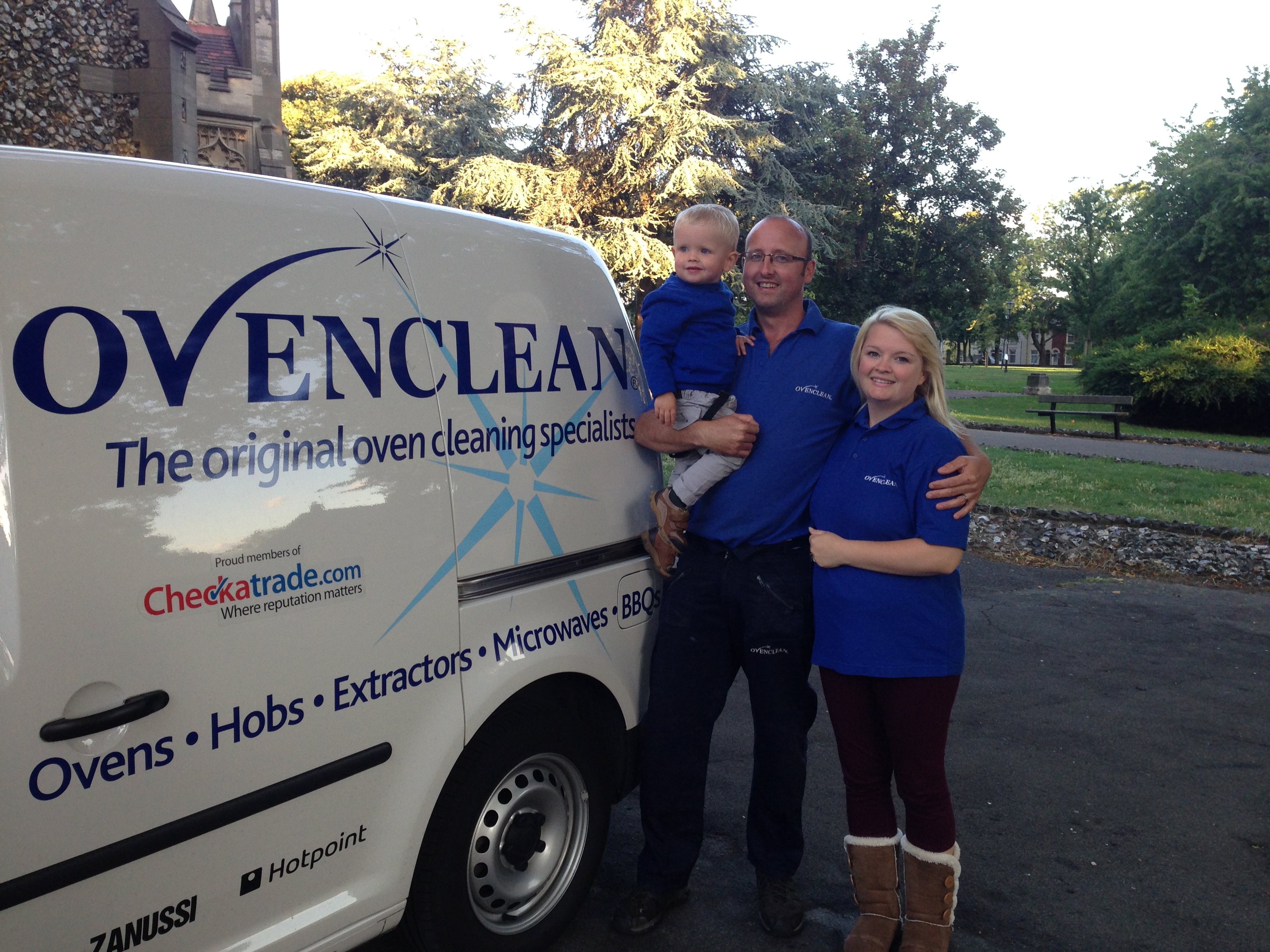 Why Ovenclean?
Dean tells us what appealed to him about an Ovenclean Franchise "I was working for a local cleaning company mainly dealing with disaster claims for insurance companies such as fires and floods. I enjoyed my job, but I came to a point where I couldn't really progress any further within the company and I felt it was time to move on.
"When we returned from living in Spain Amy took on her own salon, however when we had our first child it became increasingly difficult for Amy to be able to look after a young child as well as run a business by herself, so became a stay at home mum.
"After seeing the advert for Ovenclean in a newspaper we had a discussion and felt that this sort of business could really work well for both us. Myself being out cleaning and Amy at home taking calls and looking after the diaries and paperwork side of things – as well as keeping an eye on the kids!
"We then attended an open day and were immediately impressed with the whole package that Ovenclean had to offer. There was no hard sell or feeling that we were being pushed into any decisions. Everyone was so friendly and helpful we pretty much had made our decision to go ahead before we had even left. We spoke to a couple of other similar franchises but none came even close. The day really put us at ease. We left on a high and couldn't wait to get going!
Getting Started
"Head office are fantastic and have always been there whenever needed. As you become more established you won't need to lean on them so much, but the reassurance that they are just at the end of a phone is priceless. Initially you go out for two weeks with an existing franchisee to learn the ropes. My trainer was absolutely fantastic – we had a blast and still talk to each other regularly, even if it's not about oven cleaning! Now I act as an Ovenclean mentor to new starters myself, and I am always hearing just how helpful and knowledgeable the team are at Head Office – everything Ovenclean promise, they deliver! We couldn't ask for more really."
As for advertising, we are on Checkatrade which works absolutely fantastically for us. We also do a few local magazine ads and with the advertising head office also do, we are never short on work.
The Lifestyle
The couple have managed to split the work so Dean goes out and does the cleaning, whilst Amy manages the diary, speaks to the customers and takes bookings, enabling her to stay at home to look after their two young children at the same time. They have been so busy in fact, that the couple have employed Dean's brother, who now operates their second van to help them keep up with demand.
"We have two vans on the road – myself and brother Mark. We both undertake 3 cleans a day and 2 cleans on a Saturday. Quite a bit of time a month is taken up by repeat cleans, which customers request at the end of their cleans. I'd say about 75% of my work is now from repeat customers.
"We are in control of how much work we do. We, therefore, can find plenty of time to spend together as a family in the evenings and at weekends. Family time is extremely important to us and an Ovenclean franchise gives us the opportunity to have plenty of quality family time together."
Amy agrees, saying she wouldn't hesitate in recommending the Ovenclean franchise to other mums. "It gives you so much flexibility to be able to juggle family life, as well as running a business. With Ovenclean the two go hand-in-hand so well!"
How would you say your life has changed since becoming a franchisee?
"The best thing about becoming an Ovenclean franchisee is the freedom. We have more time for each other and our young family which makes life so much more relaxed and happier. Ok, I'm working six days per week at the moment, but that's my choice. If I want to take some time off I can, without having to ask permission! We're also planning a family holiday, which we haven't been able to do for a few years now and I'm usually back before 5pm, so I can spend time with my son, which I never used to be able to do."
Dean smiles. "We honestly cannot think of any downsides to the franchise life!"
"We have since taken on another business running a tourist attraction in Portsmouth which we run alongside Ovenclean. And it's the ease of running an Ovenclean franchise that has made this possible.
The future for us is looking very exciting and full of promise. Without a doubt, the best thing we have ever done is make that call to Ovenclean."