Aga Cleaning 101 – Cleaning your Aga Flue
These days, not all Aga cookers require a flue, the electric Aga has a small vent pipe that runs horizontally to the outside of your house. The newest Total Control and Dual Control Agas are now designed with a room vent, which means the Aga does not require any pipework from the Aga oven. A flue is still needed for gas, oil and solid fuel Agas, to draw the combustion out of the Aga cooker. If you have an Aga with a flue, it is important to make sure it is regularly cleaned to keep the Aga in perfect working order.
Often dust, soot and pet hair can be drawn into the flue and collect around the edges of the Aga flue and liner. If this collection of dust is not removed, it can significantly reduce the draw of the Aga flue and therefore affect the performance of the Aga. It is good practice to keep the flue swept, so you can identify any developing issues before they occur.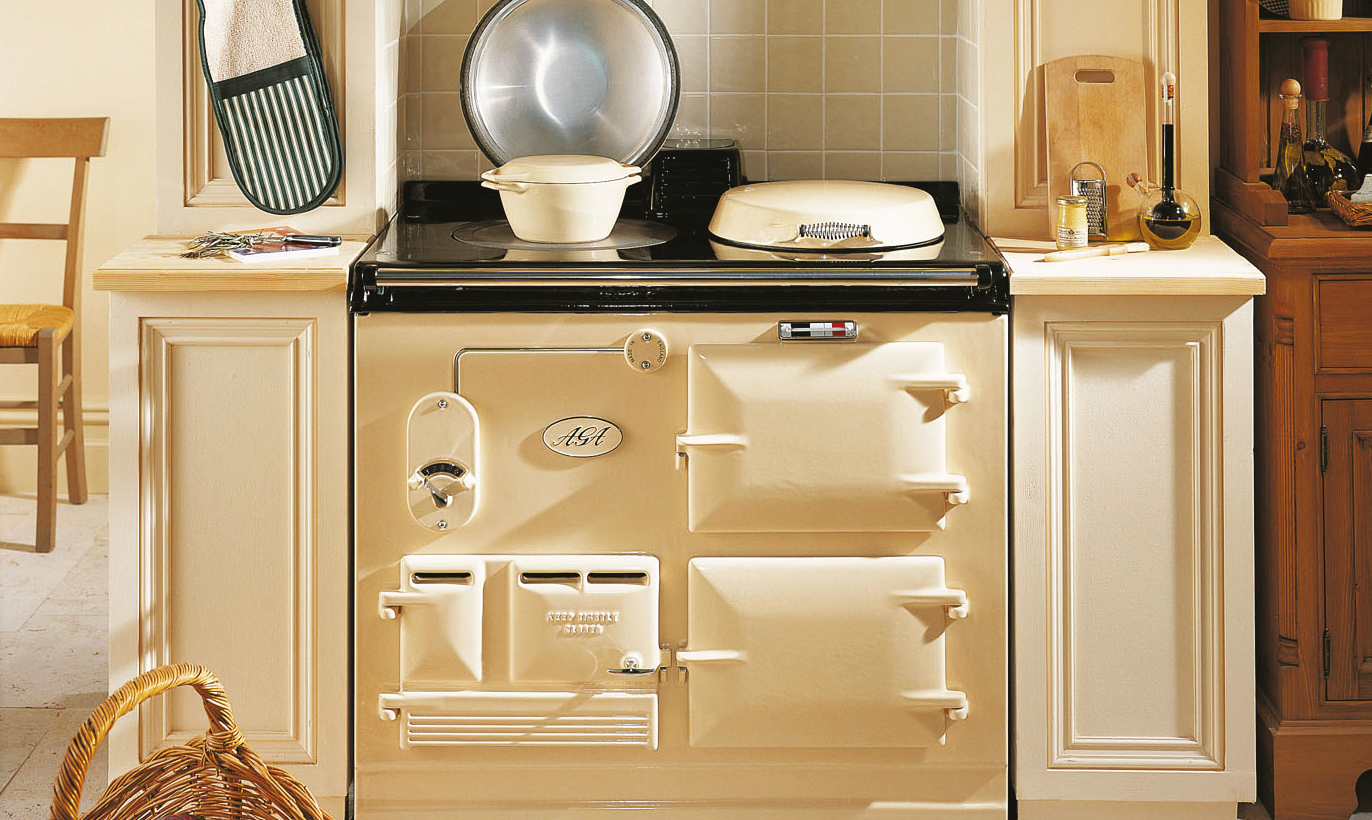 How to clean an Aga Flue 
If you notice dust, fluff or hair building up around the Aga burner door or flue chamber, you can safely remove this with a soft brush, however it is not recommended to vacuum your Aga cooker when the burner light is on as this could cause a fire. Always clean your Aga flue when the Aga oven is cold. The outside of the flue and vent cover of your Aga oven can be cleaned with a soft cloth and warm soapy water.
Professional Aga Flue Sweeping
It is recommended that your Aga flue is swept at least once a year by a professional, or twice a year if the Aga is in heavy use. This will ensure optimum efficiency of your Aga appliance. Most chimney sweep specialists also offer an Aga flue cleaning service, so you are sure to find a professional in your local area.
How to clean an Aga Flue Shroud
There any many types of Aga flue shrouds depending on fuel type, Aga type and Aga age, however they are similar in appearance and can be simply lifted off the cooker with a gentle nudge. Cleaning your flue shroud is relatively simple, however if the flue shroud is cracked or tarnished you can always purchase a replacement shroud from an official Aga supplier.
Once you have removed the shroud, you can clean the flue shroud by either popping it into the dishwasher or soaking it in soda crystals. Dishwasher tablets will do all the hard work for you, as they are only mildly caustic and they should not damage the enamel.
If the flue shroud from your Aga cooker needs a deeper clean, you can soak it overnight in soda crystals and warm water. Soda crystals can be purchased from most supermarkets. In the morning, scrub the flue shroud with a tough sponge and fresh water. Fix the flue shroud back onto your Aga cooker and the cleaning is done!
Servicing your Aga Cooker
The heart of your kitchen and the heat of your home, your Aga cooker requires regular maintenance to stay in perfect working order. You can achieve this by regularly cleaning your Aga, and sweeping the Aga flue. It is also recommended to have your Aga cooker regularly serviced by an AGA Care Engineer to ensure you get the most out of your Aga range.
 Professional Aga Deep Cleaning Service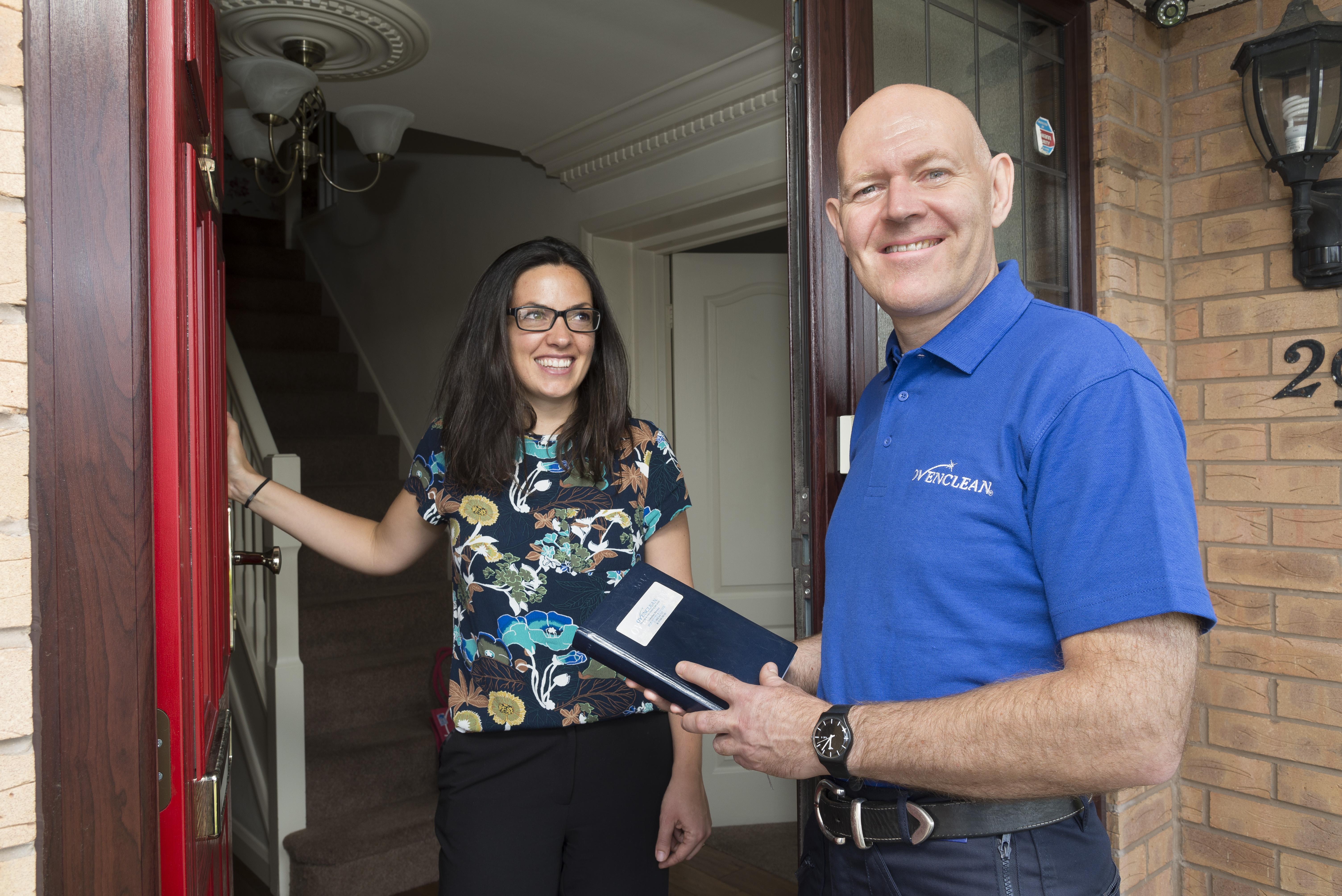 If all this talk of Aga flue cleaning has got you thinking that your Aga oven is in need of a deep clean, then why not call your local Ovenclean specialist. Our specialists offer a professional deep Aga cleaning service to ensure your Aga is looking its best as the centrepiece of your kitchen.
Even better, our Aga cleaning specialists use a unique range of no added caustic-soda cleaning products to clean your Aga, restoring your Aga cooker, whilst also working to protect and enhance its enamel finish.