Aga Cleaning – The Ultimate Guide
An Aga cooker is at the heart of any family home. To ensure your cooker lasts as long as it should, it's important to keep it clean. A dirty oven can be unhygienic and food grime can lead to an unpleasant taste in your food. A little care and regular cleaning will help you get the most of your Aga cooker and in return it will reward you with a long service.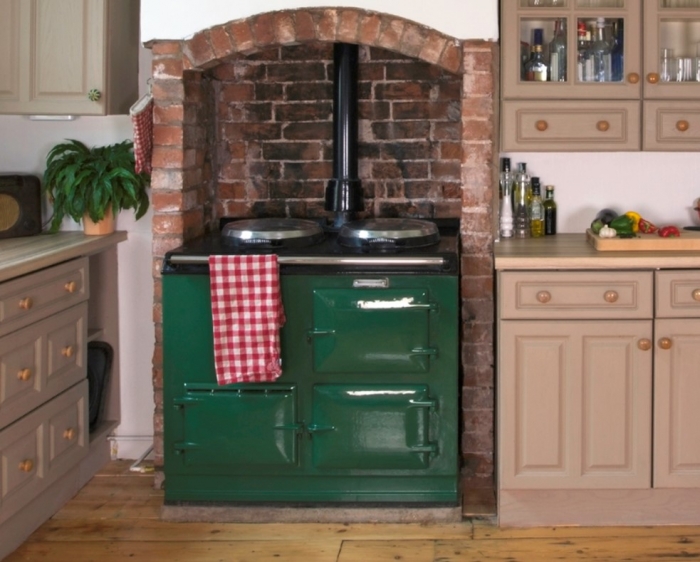 Our ultimate Aga cleaning guide with help you outline how to keep yours clean, hygienic and working as it should.
What equipment do I need to clean my Aga?
To clean your Aga cooker, you will need:
Gloves – Cleaning any oven is a messy job, so protect your hands from the grime with a pair of cleaning gloves.
A non-scratch cloth or sponge – Help retain the luxury of your Aga by cleaning it with non-scratch sponge.
Aga approved cleaning products – AGA recommends that you only use AGA cleaning products on their ovens because the delicate enamel surface requires specialist care when cleaning.
A microfibre cloth or Aga e-cloth – Microfibre cloths are excellent for wiping away dust and buffing away marks, so if you want your cooker to look as good as new, make sure you have a microfibre cloth or two!
The number of a professional cleaner – If you start cleaning and find it's taking you too long or you can't get the result you want, have the phone number of a professional cleaner to help take your Aga cleaning grief away.
How do I clean my Aga cooker?
Cleaning Aga Enamel
Cleaning the enamel is fairly straight forward. After every use wipe the enamel over with a damp soapy cloth, followed by a soft dry cloth to make it sparkle.
Acidic spills such as orange juice and milk should be wiped off the enamel immediately as they can cause permanent stains.
Top tip: Never use an 'oven cleaning' product on an Aga and never clean with a cold wet cloth as this can cause damage.
Cleaning Hot Ovens and Hotplates
The wonderful thing about these ovens is they generally keep themselves clean by carbonising spills and splatters from cooking. Simply brush away the carbon dust with a soft brush. For particularly stubborn stains, a wire brush can be used on the cast-iron components.
Hotplates can be cleaned in the same way as the ovens. If you are faced with burnt-on stains, these can be removed with a damp cloth, but ensure you remove all detergents after cleaning.
Similar to BBQ grills, the hotplates are susceptible to rust, if the surface is exposed to regular moisture. To avoid this, switch the hot plates off for a couple of minutes after cleaning to allow them to dry.
Doors and Door Linings
The easiest way to keep the door linings clean is to wipe them down when the Aga is turned off and the linings are completely cooled. You can use an Aga cream cleaner or a soapy cloth to remove food grime from the linings.
To deep clean the door and their linings, carefully remove the door from the cooker (once turned off and cooled). Place the door, enamel side down on a towel on the work surface and use a soap-filled cloth to remove any stains and grime.
Top tip: Don't immerse the doors in water or put them in the dishwasher. Too much water can damage the insulation within the door.
Handrail Brackets and Side Panels
These components are powder-coated (painted), so abrasive products cannot be used. Simply use a soap-filled soft cloth to remove any stains.
Cleaning Insulating Rings
The insulating rings can be removed from for cleaning, but remember to make a note of which ring came from each hotplate.
Flue Cleaning
If you notice dust collecting around the Aga flue chamber, you can safely remove this with a soft brush, but never vacuum. You can find the full Aga flue cleaning guide here.
What is the best way to clean the outside of an Aga?
The best way to keep the outside of the Aga clean is to wipe up any spills immediately with a damp cloth. Especially if you spill an acidic liquid, such as orange juice, clean it up straight away to avoid permanent staining. After you have wiped the spills away, buff the surface with a dry cloth for a shiny finish.
How often should I clean my Aga?
You should aim to clean it every 6-12 months (dependant on usage). The more you use the cooker, the more frequently it should be cleaned. If you only use your Aga in the Autumn and Winter months, then Summer is the perfect time to complete a deep clean, find out why here.
As well as a deep clean, it is recommended that you have your Aga regularly serviced every 12 months. Here is what you can expect to receive with an Aga service.
How can I ensure my Aga lasts a long time?
By caring for your Aga and cleaning it regularly, you can help it stand the test of time. Some maintenance tips include:
Wipe out your Aga once a week – food debris will be easier to remove.
Use approved cleaning products so the enamel surface is not damaged.
Invest in oven liners to line the bottom of your Aga oven. Reusable oven liners protect the bottom of your Aga from food drips and can be easily cleaned afterwards.
For more Aga tips, visit our Everyday Hacks for your AGA blog here.
I don't have time to clean my Aga, can anyone help?
You may not have the time or energy for cleaning, or perhaps your Aga is your pride and joy, so don't want to risk damaging it? Whatever the reason, Ovenclean specialists are on hand to provider an expert Aga cleaning service, so it will be sparkling clean in no time.
Cleaning isn't everyone's cup of tea, so leaving it to the professionals might be the best option. If your Aga needs a professional deep clean, why not get in touch with your local specialist today?
In addition to Aga cleaning, we also clean Range Ovens, Hobs, Single and Double Ovens, Microwaves, BBQs and Extractor Fans.
Call us on 0800 840 7127, or complete our online form for your free quote.