Best Kitchen Appliances of 2021
With lockdown restrictions finally easing and a sense of normality slowly returning, now is the perfect time to get our homes spruced up and ready for all of the social gatherings that have been on hold the past year! We have put together a guide of the best kitchen appliances of 2021 that you will simply love.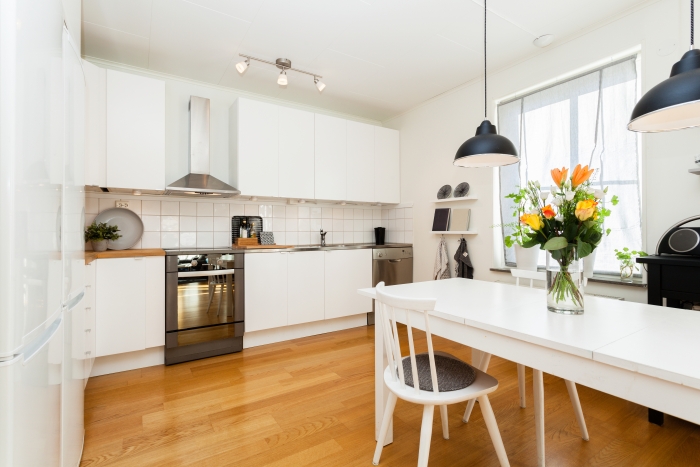 Best Kitchen Appliances of 2021: Fridge
To kick start the best kitchen appliances of 2021, we have the humble fridge. It goes without saying, this is essential for your kitchen! Of course, a fridge keeps your food cold and therefore fresher for longer, this appliance is a must-have for anyone that likes a large weekly shop. There are so many different styles, colours, and designs, you certainly won't be stuck for choice. Something to consider when purchasing a fridge is the star rating, usually the higher the rating, the better it is at saving energy which is exactly what you want when paying bills!
If you are looking for the latest technology, Which? have put together a guide on the top 5 fridges for 2021. 
Oven
Another essential for the foodies out there, grill, bake and cook to your heart's content! This is a super quick appliance to cook and reheat food. Wattage and size are something to consider when finding the perfect oven for you, be on the lookout for an automatic turntable, this helps to heat the oven fast. Once you have the perfect oven, don't let it go to ruins. We recommend booking a professional oven clean once every 6 months to keep your oven sparkling clean!
Looking for the best built-in oven? Dreamy Home have put together a guide here.
Microwave
Now just when you thought an oven was a quick, efficient way to cook food, they invented the microwave! This is definitely one for those constantly on the move and stuck for time. Microwaves can re-heat, steam, boil, cook and even defrost food in very little time, sometimes even seconds! If you're struggling for space in your kitchen, you could always consider having it inside a drawer, they're efficient and compact. Please remember never to put metal objects inside of your microwave or anything with aluminium lining!
From solo to combination microwaves, Ideal Home have reviewed the top microwave ovens here. 
Electric Kettle
If you love a morning cuppa, an electric kettle is an absolute must! A kettle isn't only great for your morning fix, it can also be used to prep pasta, soup and boil water for a variety of uses. When choosing a kettle, we'd recommend a strong switch button and a sturdy heating base with a precise pouring spout. Kettles come in every shape, size and design; you can choose one that will match your kitchen décor perfectly.
Toaster
Every toast lover needs a toaster in their life, turning bread into toast as quickly as it takes to boil the kettle! Most modern toasters will usually feature easy to adjust slots that will make room for all types of bread, muffins and crumpets! If you're struggling for space in your kitchen, go for a 2-slice toaster, these are small and compact and will have your bread toasted in no time.
Blenders
A blender is a super quick, easy way to make delicious smoothies, juices and even soups. No matter if it's fresh or frozen fruit and veg, a blender will whip it up, emulsify, blend and mix it all together into a smooth liquid! Perfect for quick meals and healthy drinks!
Dishwasher
Coming home after a long day of work and then cooking for the family, the last thing anybody wants to do is the washing up. The appliance that will make your life 100% easier! Simply pop all of your dirty dishes, bowls, pans and cutlery in, and just like magic it'll have them sparkling clean! A dishwasher is truly a great time saver, the only downside with a dishwasher is that of course it is more expensive than washing up!
Coffee Maker
Definitely one for the coffee lovers out there, if an instant coffee just won't cut it, a coffee maker should be first on your list of essential appliances. The majority of modern coffee makers provide an automatic setup that can be enabled to schedule your brews at any time you choose. Always wanted to wake up to the aroma of freshly brewed coffee in your own home? Well now you can!
If you are looking to get a new coffee machine this year, BBC Good Food have reviewed the best coffee makers here. 
Slow Cooker
If you know you have a super busy day ahead and won't feel like cooking when your home, a slow cooker is the perfect option for you. Add all of your ingredients and turn it on! Leave it roughly 8 hours to cook, come home and your dinner is all ready for you with minimal effort! A fantastic appliance for the hard workers of the world.
Pressure Cooker
This appliance is great for producing healthy, nutritious meals using steam to cook the food. Great for saving time, water and energy. One thing to look out for is the quality of the cooker, the thicker the material, the longer the cooker will last!
There are many more kitchen appliances that of course aren't all listed here; however, we feel these are the most essential! If you start with these best kitchen appliances, you are guaranteed to have everything you need in your kitchen.