How to Clean a Charcoal Grill
Nothing quite beats bringing your family and friends together to try out new BBQ recipes on your Charcoal grill, surrounded by the beauty of nature. Year after year, chargrilling brings that distinctive delicious flavour to the Summer BBQ season. So, the last thing you want is a dirty, greasy Charcoal Grill covered in the ruins of last year's sticky BBQ ribs.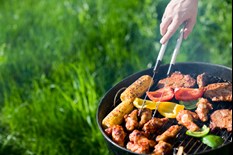 If you have a Charcoal Grill, it is recommended you deep clean it at least once in the Summer or twice if you grill often. This is because carbon, ash and food can build up in your grill and cause rust.
So, in order to get your charcoal grill ready for the holidays, follow these simple cleaning steps to ensure it is in perfect working order to fire up for the Summer.
What you will need:
Grill brush or coarse cleaning brush
Paper or plastic bags
Warm water
Washing up liquid
Cleaning cloths or paper towels
Clean dry towel
Washing up gloves (it can be a messy job!)
How to clean Charcoal Grill:
Firstly, put your gloves on if required and remove the grill grates from inside of the grill.
Remove all the ashes from the grill and place them into a plastic or paper bin bag. If your charcoal grill has an ash catcher, be sure to empty this too. If your grill does not have an ash catcher, you can use a garden trowel to remove the ashes.
Clean the grill grates with a spray-on oven cleaner of choice or natural oven cleaner and coarse cleaning brush.
Spray the same oven cleaner onto all grill surfaces, inside and out, then let it sit before you move onto the next step.
While the oven cleaner is soaking into the grill, make a bowl of warm water and washing up liquid. Use a cloth and the warm water to clean the outside of the grill, making sure you remove the build-up of grime from any crevices.
You will notice the grease stains have begun to fade from the grates and inside of the grill, so wipe away this grime with a paper towel or old cloth. Repeat if necessary.
Now spray the grill grates and grill with a mild disinfectant, and wipe away with clean water and a cloth.
Rinse the interior, exterior and grill grates with clean water and then dry with a towel or clean cloth.
If cleaning your Charcoal Grill all seems too dirty and time consuming, then why not get a free quote from your local BBQ cleaning specialist?
 How to maintain a Charcoal Grill:
Every time you grill, check your ash catcher, make sure the catcher is not full, and empty when required.
Call your local Ovenclean specialist to complete a deep Charcoal Grill clean twice a year.
Always brush the grill grates before you begin grilling. Preheat the grill and brush the grate with a grill brush to remove any burnt bits of food from the last grill use. It will be easier to clean the grill when the grate is warm.
Oil the hot grates before grilling so food doesn't stick, making it easier to clean after you are finished.
Once you have enjoyed your delicious chargrilled food, brush the grates one more time, making it easier to clean next time.
 If you want to get your Charcoal Grill ready for Summer, then why not get your local BBQ cleaning specialist in to make it look as good as new. Get a free cleaning quote today.