How to Clean a Microwave with White Vinegar
Exploding beans and splattered left-overs? The microwave is a kitchen appliance that accumulates food grime very quickly, so it is important to regularly clean this appliance to ensure your food tastes as good as it should.
This post will guide you through cleaning a microwave with white vinegar and steam. Arguably the easiest way to remove burnt-on bean juice from the ceiling of the microwave!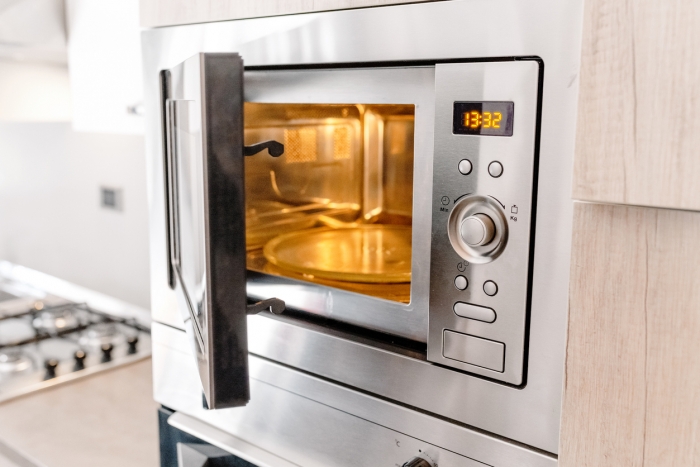 Cleaning a Microwave with White Vinegar
There are many different methods and products available to clean a microwave, but white vinegar is easy, safe and cheap. Steam cleaning a microwave with white vinegar gets the job done with minimal effort. This is because white vinegar is very acidic, making it a great natural cleaning product. The acidity means it can tackle microwave dirt and grime easily. Together with steam, cleaning the microwave with white vinegar makes it less of chore.
Benefits of Cleaning with White Vinegar
White vinegar is inexpensive to buy from most stores
Contains no harsh chemicals or fumes
Works to remove odours, instead of masking odours
Vinegar is an environmentally friendly product
How to Clean a Microwave with White Vinegar
What you will need:
White vinegar
Microwavable bowl or jug
Cleaning sponge
Clean dry cloth
Cleaning the Microwave:
Take the microwave safe bowl or jug and add 500ml of water, followed by 2 tablespoons of white vinegar.
Place the bowl or jug into the microwave. Then microwave on full power for 5 minutes, you will notice the liquid beginning to boil.
Once the 5 minutes is up, leave the microwave door closed for around 3 minutes. Keeping the door closed will trap the steam inside. This will help to loosen the burnt-on food grime.
Carefully open the microwave door and remove the bowl or jug. The solution will be very hot, so wear a glove or oven mitt. If your microwave has removable parts such as a turntable, remove this too.
Use the sponge to wipe the inside of the microwave, starting from the roof, down to the sides and door. The grime should wipe away easily due to the steam, however burnt-on grime may require a little more elbow grease.
Then wipe the turntable over with the cleaning sponge and dry off with a clean dry cloth.
Use the clean cloth to buff the microwave dry, then place all the removable parts back and you are good to go.
White Vinegar Cleaning Tips
Now your microwave is gleaming, why not tackle some other areas of the kitchen? If you have white vinegar left over, use it to remove grease from the hob, work surfaces and kitchen cupboards. White vinegar is a great degreaser and works even better when it is hot. But it doesn't stop there, white vinegar can be used to deep clean the carpet, clear out drains, clean windows, bathrooms and much more. You can even clean your oven with it, get the natural oven cleaning recipe here.
If you are looking for a professional microwave clean, we are always happy to help. Ovenclean offer professional Microwave cleaning, Oven cleaning, BBQ cleaning, Aga cleaning, Hob cleaning and Extractor Hood cleaning. So, if you are looking for a professional deep clean, contact us today for a cleaning quote.