Kitchen Storage & Organisation: Top Tips
Keeping an organised, clutter-free kitchen is surely one of life's most frustrating tasks. Especially for those with a family or busy lifestyle. You can spend hours deep cleaning your kitchen, only for it to become cluttered again within days. Not to worry though, Ovenclean have put together top tips for organising and maximising the space in your kitchen so you can relax knowing your kitchen will stay tidy and organised.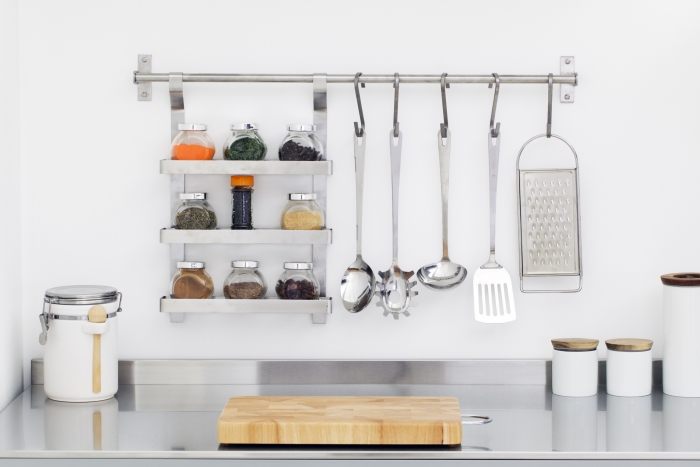 Smarter Space-saving Ideas
Valuable space can be taken up so easily with all your essential kitchen utensils and equipment. Here are some great ways to free up that space.
Make Use of Wall Space
Magnetic racks are a fabulous way to clear space in your drawers, perfect for hanging knives and utensils. Not only does this give your kitchen a modern twist but is also much more convenient when cooking.
Open Storage –  Invest in some quirky-looking open shelves and fit them above your dishwasher, easy access to all of your glasses and cups. Plus they offer a super quick way to store glasses after they have been washed.
Sink Drying Rack – a worktop full of drying dishes, pans and cutlery isn't the most attractive thing to see in your kitchen. It simply creates a cluttered, untidy feel! Treat yourself to a drying rack that can either be fitted into the wall or one that sits above the sink. Not only does this make the items look neat and organised, but it will also make the kitchen look bigger as there is more space on the worktop.
Kitchen Storage Solutions 
Stack, stack, stack! Stacking is the easiest way to make more room in your kitchen cupboards, our recommendation would be to stack the most used items at the top, vertically stack your pans, and place your lids horizontally, this makes it easier and quicker to reach for the size you're after.
Wire baskets, plastic containers and storage boxes that can be stored inside cupboards and drawers are a great way to keep all of your items neatly in one place, keeping everything organised and tidy!
Slide-out bin holders: A kitchen bin can take up a large amount of space. But with a slide out bin, it's still quick and easy to reach but will keep it out of sight!
Kitchen Food Storage
Organising your food products is a great way to keep your kitchen organised and clutter-free. Using transparent boxes and jars is an easy way to be able to see your food and comes in very handy when knowing what to add to your shopping list!
Keep all of your herbs and spices in one drawer, nothing looks messier than half-empty spice jars placed in random areas of the kitchen! Keep them all together, easy to access and out of the way. Alternatively, if you like to keep your spices on show, why not buy a spice rack! These are a quirky addition to the kitchen and keep all of your spices in one place which are easy to see and grab during cooking.
Why not get creative and experiment with unique ways to store your equipment. Convert a closet, use storage above your window, create a label maker, build floating shelves or hang a curtain to hide clutter, the list goes on! Have a good search on the internet for some space-saving products and try them out. A tidy, organised kitchen can completely transform the feel. So be sure to make the most of your space no matter how big or small your kitchen is.