Professional Caravan Oven Cleaning
Owning a caravan or motorhome has a wealth of benefits – they give you the freedom and flexibility to travel anywhere and they retain their value extremely well. However, maintaining and managing a caravan is no walk in the park. Keeping your caravan oven clean all year round can be a challenging task.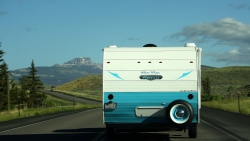 Ovenclean looks at the benefits of caravan oven cleaning
Saves hassle and stress
When you're going on holiday to your caravan or motorhome, you don't want the hassle of having a dirty oven and being unable to cook there. By using a professional service to clean your caravan oven, you can arrive stress-free with your oven in sparkling condition.
Saves time
Cleaning a caravan cooker yourself will take hours, especially if you want the job completed to a high standard. Why should you spend your precious time off cleaning your motorhome? Having a professional oven clean means you'll have the time for more important things, like enjoying your holiday with your loved ones. What's more, professional oven cleans last up to 12 months, especially if you only visit your caravan a few times a year!
Reduces cost
Worried about the potential cost of caravan oven cleaning? Well, a professional oven clean can actually save you money in the long-term. Having a professional oven clean regularly keeps all mechanisms clean and unblocked, which enhances the performance of your oven and makes it more likely to last longer. Furthermore, a clean oven heats up quicker and the heat will be more evenly distributed, which will reduce energy costs for your caravan.
Improves health and safety
Dirty ovens accumulate a range of health risks. First of all, a build-up of old food carries germs, and these germs will breed and be passed on each time something is cooked in the oven. These can then potentially infect you and your family, making you all very ill, which is hardly ideal when you're on holiday! Not only is a dirty caravan cooker unhygienic, but it can be a fire hazard too. Proceeding to bake with burnt food and grease may fill your oven and kitchen with a thick plume of smoke, which will obviously cause a lot of discomfort and danger to you and your family.
Convenience
Domestic oven cleaners often contain harmful chemicals, and when contained within the compactness of your caravan they could cause even more damage to you and your family. However, an Ovenclean specialist can book an appointment which is convenient for you. Our specialists use an innovative, no added caustic system, which means your kitchen is safe, hygienic and free of nasty fumes, and appliances can be used immediately after.
So, if you would like your caravan oven cleaned, call us on 0800 840 7127, or complete our online form for your free quote.