The Oven Cleaning Service with No Deposits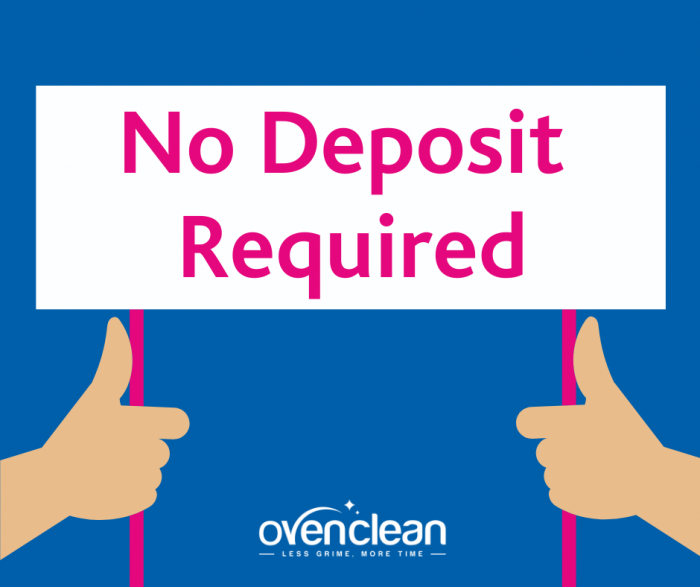 At Ovenclean, we will never ask you to pre-pay for the cleaning service or ask for a deposit before the appointment. This is because we trust our customers and they trust us. For over 25 years we have been offering professional oven cleaning services with no deposit required and it just works.
Unfortunately, we have become aware of a few new oven cleaning companies who require a deposit to book the appointment, but their specialists often don't turn up and they are refusing refunds. With Ovenclean, this is not the case. You do not need to pay a deposit when booking an appointment with your local Ovenclean specialist.
In extremely rare cases when an Ovenclean specialist needs to reschedule or cancel an appointment we will always contact you directly at the earliest opportunity.
I have pre-paid and the specialist hasn't arrived – what should I do?
If you have paid upfront for an oven clean, I'm afraid your appointment is not with Ovenclean. We would recommend checking your emails for any correspondence from the cleaning company. You could also check your bank statement to find the name of the company you paid the deposit to and contact them directly.
Ovenclean 5-Star Trustpilot Rating
Ovenclean is a professional and reliable oven cleaning service with a 5-star Trustpilot rating. Read what our customers have to say about our professional oven cleaning services here.
Ovenclean also has a 4.9-star rating on Facebook, as customers are often wowed by the results of a professional clean. Read all our Facebook reviews here.
Ovenclean Professional Services
At Ovenclean, we pride ourselves on first-class service and high-quality cleaning and our no-added caustic system means our service is safe for use around children and pets. But, we don't just clean ovens. We also offer deep Range Oven Cleaning, Hob Cleaning, Extractor Hood Cleaning, Microwave Cleaning, BBQ Cleaning and Aga Cleaning.
Book an Appointment
The easiest way to get a free cleaning quote and book an oven clean is to fill in our online enquiry form here or give us a call on 0800 840 7127. Your local specilaist will then be in touch within 24 hours to arrange a convenient appointment at a time that suits you.
Canceling or rescheduling an Ovenclean Appointment
We understand that sometimes the unexpected can happen and for whatever reason you may need to cancel or reschedule your appointment. However, we do ask that you let your local specialist know at the earliest opportunity.
Want to know more? Visit our FAQs page here.