How to Clean your BBQ  – Our Ultimate Guide
The sun is out and summer is in the air – it can only mean one thing. BBQ! But what if you go to use your outdoor grill, only to find that it's in need of a good old clean? Well, don't despair. Although cleaning the sludge off your BBQ might seem even harder than cleaning your oven, it doesn't have to be a chore.
The below Barbecue Cleaning Q and A will tell you everything you need to keep yours looking and smelling sparkling fresh.
In this article (quick links) – 
What do I need to clean my BBQ?
How do I clean my BBQ grill grates?
How do I clean my charcoal BBQ?
How do I clean my gas barbecue?
What's the best way to clean the outside of my BBQ?
How should I clean my electric BBQ?
How often should I clean my barbecue?
How can I ensure my BBQ lasts a long time?
My barbecue is so dirty; I think I need a new one. What type should I get?
I need someone to clean my BBQ for me. How do I get a quote?
What equipment do I need to clean my BBQ?
To clean your BBQ, you'll need:
Gloves:
Because BBQs often get so greasy and can require astringent cleaning products, protect your hands with a pair of rubber gloves.
Grill brushes:
BBQ grill brushes are one of the staples of BBQ grill cleaning. The most effective ones often have steel bristles and come in all kinds of shapes and sizes.
Scraping tool:
A BBQ scraping tool offers the perfect way to remove any residual grease and grime inside your burner.
A non-scratch scourer or sponge:
Help retain the integrity of your BBQ by cleaning it with non-scratch scourers and sponges.
Cleaning sprays:
There are lots of specific cleaning sprays on the market that target different areas of your BBQ, whether that's the enamel or the cooking grates.
Natural cleaning products:
Did you know that a bicarbonate of soda and vinegar mix can make a great non-chemical cleaning product that is great for removing stubborn leftover charcoal?
Washing up liquid:
It's often overlooked as a cleaning product, but washing up liquid helps cut through the grease and grime so often found on a dirty BBQ.
Drip pans:
Used as a preventative measure, BBQ drip pans can help save on cleaning later down the line – meaning you don't have to work as hard!
A microfibre cloth:
Microfibre cloths are excellent for wiping away dust and buffing away marks, so if you want your BBQ to look as good as new, make sure you have a microfibre cloth or two!
The number of a professional BBQ cleaner:
If you start cleaning your BBQ and find it's taking you too long or you can't get the result you want, having the phone number of a professional barbecue cleaner can help take your BBQ woes away.
 How do I clean my BBQ grill?
Whichever style of BBQ you have, you'll need to pay special attention to cleaning the grill grates. From scorch marks to stubborn fats, it's perhaps one of the most important areas to focus on. Here's how to do it:
Ensure your BBQ has cooled down
Carefully remove the grills
Clean the grates with a spray on oven cleaner of your choice
If you would prefer to use natural products, you can make your own DIY oven cleaner, which will work like magic.
Use the BBQ cleaning brushes to focus heavily on the areas where meat sears, as residue fat can cause flares.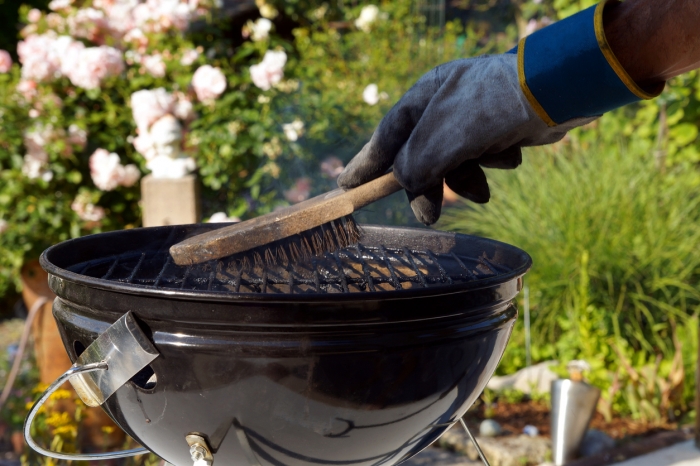 How do I clean my charcoal BBQ?
Remove and clean all BBQ grills as per step one above
Ensuring the BBQ has cooled right down and there are no hot coals or ashes, remove the ash catcher and put any waste into a disposal bag
Spray some oven cleaner into the BBQ drum and around the outside, paying close attention to any hard to reach areas
Scrub with a non-scratch scourer or sponge
You can also use a bicarbonate of soda and vinegar mixture, if you prefer to use natural products
When the old grease and charcoal has lifted, remove any excess liquid and spray with a mild disinfectant
Wipe away any excess grease with a paper towel
Rinse the interior and exterior of your BBQ with some plain, warm water and dry with a paper towel
Buff the inside and outside of your BBQ with a microfiber cloth
Voila! You now have a BBQ that's ready to rock.
How do I clean my gas barbecue?
Before you begin, ensure you've safely removed your BBQ's gas tank. We advise checking the owner manual for further guidance
Clean your BBQ grates, as described above in question two
Spray grate cleaner or use warm soapy water inside the cook-box and let it settle for a couple of minutes
Scrape off any debris with a brush, and clean excess off with a sponge or paper towel
Make sure all elements of your BBQ are dry before putting it together again.
Using a soft brush, clean out the burner tube air intake
You should now have a clean barbecue that's ready for action!
What's the best way to clean the outside of my BBQ?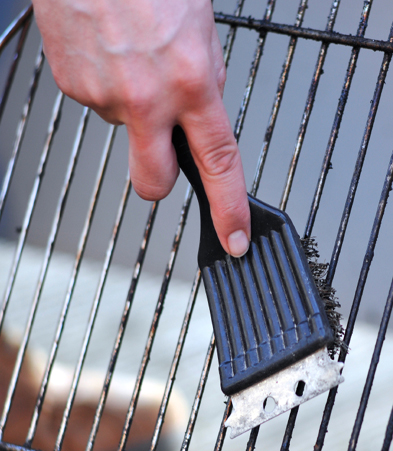 When cleaning your barbecue's exterior, we recommend using non-scratch products. This is where your microfiber cleaning cloth comes in!
Use the appropriate cleaning spray for your barbecue – whether that's a specialist enamel or stainless steel cleaner
Wipe off with a microfiber cloth
Use soapy water and sponge clean the outside
Dry and buff with a clean and dry microfiber cloth
Your BBQ should now look super shiny!
How should I clean my electric BBQ?
Cleaning an electric grill doesn't have to be hard. Follow these steps for the ultimate barbecue success!
Before you start, unplug the BBQ and make sure there is no power going to it at all
After unplugging and ensuring there is no power going to the BBQ, wait ten minutes for it to cool off (assuming you have just used it)
The heating element in an electric BBQ is self-cleaning, so you do not need to clean this part
Use your brushes to clean the cooking grates
If your barbecue has a removable liner, take it out now
Wipe off reside with a soapy sponge
Rinse with cold water and wipe away any bubbles or further residue
Polish all parts with a clean and dry microfiber cloth
Reassemble your BBQ and plug it back in for use or store it safely for another day.
How often should I clean my barbecue?
As a rule of thumb, we recommend giving your BBQ a deep clean at least two to three times a year. However, if possible, removing excess food and wiping everything down should be carried out after every use.
How can I ensure my BBQ lasts a long time?
By looking after your BBQ and cleaning it after use, you can help it stand the test of time. Some tips include:
Wipe out your BBQ after use before it cools completely – debris will be easier to remove
If you have a charcoal BBQ, use a drip pan to stop fat sizzling on the coals
Store your BBQ correctly in the winter. Although there's a temptation to leave it outside, this exposes it to the elements and rust can damage its integrity. If storing it in a garage or inside is not an option, there are a range of BBQ covers for sale.
Use the right products for your specific BBQ
Using the appropriate cleaning products for your BBQ means you won't create costly damage. Always read your BBQ's manual and choose the relevant products to maintain its lifespan.
Line drip-trays with foil or invest in a BBQ grill mat
By lining the drip tray, it makes it much easier to clean, which you'll be thankful for later!
My barbecue is so dirty; I think I need a new one! What type should I get?
Choosing a BBQ is rather like choosing a car. It's easy to spend lots of time reading the pros and cons of gas or charcoal BBQ's, but it's all down to personal preference and how you like to cook. Whether you like the ease of an electric one, or the smoky taste of charcoaled meat, there are plenty on offer. But before you start looking, and potentially spend hundreds, ask yourself this  – could a professional BBQ cleaner restore your BBQ to its original glory?
I don't have the time or energy to clean my BBQ. Is there anyone that can help me?
There are lots of reasons why you might not want to clean your BBQ yourself – from not having the time to not having the energy to give it some elbow grease. Luckily, help is at hand thanks to Ovenclean's expert BBQ cleaning service, which will have it clean and fresh in no time!
Cleaning the BBQ isn't a job everyone loves, and leaving it to someone else might be the most attractive option. If you need someone to come and clean your BBQ, you can find your local professional BBQ cleaner here. The best bit is, it doesn't cost as much as you think! In addition to BBQ cleaning, we also clean ovens, hobs, microwaves and agas, using caustic-free cleaning solutions.
Call us on 0800 840 7127, or complete our online form for your free quote.