5 Top Tips to Cleaning an Electric Oven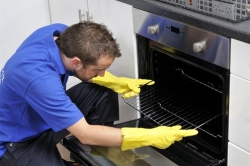 When it comes to cleaning your oven, it can often be a daunting task, not knowing where to start. But, did you know that electric ovens can be cleaned differently to gas ovens? Here are our top five tips for cleaning your electric oven.
Use ammonia


Using ammonia is dangerous with gas ovens, but can be very efficient on your electric oven. It's also very simple to use;
Start by heating your oven to 150°F
Turn off your oven
Place a bowl with half a cup of ammonia on the top shelf
Place a large pan of boiling water on the bottom shelf
Leave your oven overnight
In the morning, air your oven for a while, before wiping down with a little bit of washing liquid and warm waterThis is an effortless and effective way to get your oven shining.
Switch it off


Our second tip is here to look after you. Water and electrics do not mix well, be sure to turn your oven off at the mains before you start cleaning it.

Don't scrub!


When cleaning your electric oven, it is a good idea not to scrub the elements. It can be tempting to scrub the heating elements in your oven. But, any left-over cleaning residue on your element can react with the heat of the oven next time you use it, and is likely to leave an unwelcoming smell.

Use gloves


Many cleaning products can be harmful to your skin if exposed to for a long period of time. You should also try to use natural or caustic free cleaning products. These types of products won't corrode the internal structure of your oven and are more environmentally friendly (particularly around pets).

Go professional


If all of this sound too daunting or time-consuming, you can always call in the professionals. Our oven cleaning specialists are fully trained to clean all types of ovens, from electric to AGA and microwaves. Click here to get your free quote, or call us on 0800 840 7127.