Electric Fan Oven Cleaning Tips and Hints
What is an Electric Fan Oven?
An electric fan oven has an exhaust system and is also known as a convection oven or fan-assisted oven. The purpose of an electric fan is to cook food quicker and more evenly, it works by blowing hot air around the oven. A non-electric fan oven doesn't have this feature, instead, the food is caged in hot air rather than the air circulating evenly.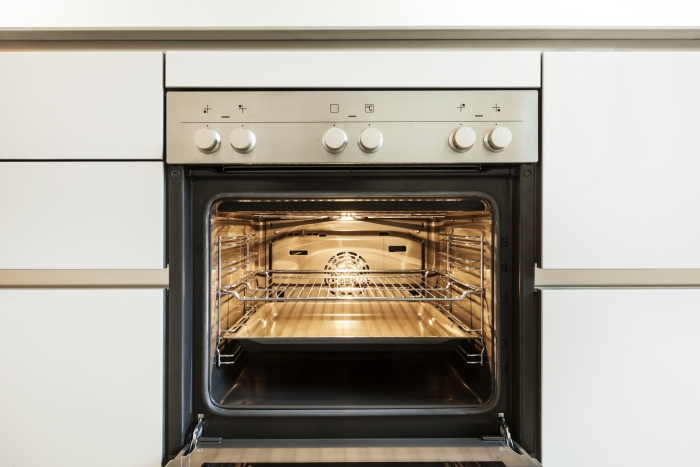 Oven Cleaning Methods
Before you begin your electrical fan oven clean, it's a good idea to decide how you are going to tackle the grime. There are many different methods to choose from, so decide which one suits you and your oven best.
Natural Cleaning: Baking Soda and Water
This method is completely natural, using no toxins or chemicals.
Using one cup of baking soda, mix it together with water to create a thick paste. Be careful not to add too much water, just enough to form the paste.
Spread the paste throughout the entire oven, you can use a sponge or spatula for this.
Add more paste to the areas that have extra grime. Avoid all heating elements such as the internal fan, as this may cause damage.
Close the door and leave the mixture to soak for a few hours.
If the oven is particularly dirty, you can leave the paste overnight.
Once it has been left to soak, use a cloth or sponge to scrub away the paste.
Once the dirt and grime have been eliminated, use a clean damp cloth to wipe down the oven.
Leave the oven to dry naturally.
Self-Cleaning Feature
Many modern ovens have a self-cleaning function and the good news is that this feature uses no harsh or toxic chemicals. Most self-cleaning ovens reach extremely high temperatures, turning food and grime to ash which makes it easier to wipe away. Although it makes it easier to wipe away, these temperatures can actually cause more damage than good. Self-cleaning ovens may produce and emit dangerous fumes into the air with an unpleasant burning smell, although no chemicals are used to clean them, they can still create these unpleasant fumes which could be dangerous. You can find out more information on the dangers of self-cleaning ovens here.
Professional Electric Fan Oven Cleaning
If you are strapped for time, cleaning your oven may not always come first on the list. Unfortunately, it can be very time-consuming. Cleaning the oven yourself may also be tiring and strenuous and a little overwhelming. However, there is no need to worry. With over 20 years experience, Ovenclean has built up an incredible reputation for providing outstanding service to our customers.
We can get your oven sparkling again and restore the shine to Ovens, AGAs, Ranges, Hobs, Extractor Fans, Microwaves and BBQs. The best thing is we tackle the grime so you can spend more time doing the things you love. All of our cleaning products use no added caustic solutions meaning they are completely safe to use around pets and children. You can even use the oven immediately after the clean is complete. Why not get a free quote today.