Book Your Professional Oven Clean This Easter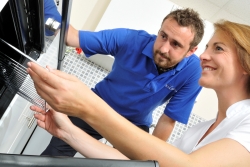 Easter is just around the corner – the Easter eggs have been on supermarket shelves for weeks now and it's time to start thinking ahead to the big day and get your professional oven clean booked for Easter.
Baking is a great activity to do with the kids, but unfortunately, time can be of the essence when you're trying to keep the kids entertained, so oven cleaning can often fall to the bottom of the list.
Trying to plan school holiday activities isn't the only thing that makes this time of year a busy one, you're also having to accommodate family members who are staying for the weekend and cater for visitors – which is why we're here to help.
Having a professional oven clean can not only ensure your oven is restored to its former glory but will save you time that you can spend planning what to cook on Easter Sunday! It will also improve both the taste and hygiene of the food that you bake – no one wants their guests to taste burnt on food from previous meals!
Ovenclean CEO, Tim Harris, explains, "Having a professional oven clean before a big event like Easter and Christmas means that you can remove all traces of previous baked-on deposits. We remove the hassle of cleaning in just a few hours with minimal fuss or mess.
"People are normally quite embarrassed about the state of their ovens, but it happens to the best of us and believe us, we'll have definitely seen worse!
This time of year is very busy for our specialists as everyone wants to remove burnt on food and grease from their ovens and hobs in time for their celebrations, so you'll need to book now with your local oven cleaning specialist to avoid disappointment! Once you have a professional oven clean, they will last up to 6-12 months depending on cooker usage.
So before you commit to hosting this year, treat yourself to a professional oven clean – one more thing to cross off your to do list! Just call Ovenclean now on 0800 840 7127 or complete our online form for your free quote. But, hurry as appointments are booking up fast!
And if you're looking for some school holiday activities to keep the kids entertained during Easter, we might be able to help you out there too! Take a look at our recent blog post: Easter activities for kids.