How to Clean Your Oven Door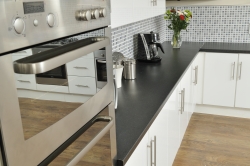 With winter slowly starting to turn it's back on us, many of us are starting to think of spring cleaning. But, with so much to do where do you even begin? Officially the most hated chore, your oven might be the last thing you think about. Then, to make it even worse, you realise the oven door needs doing too!
Fear no more, here are some handy tips on how to clean your oven door:
If your door comes apart;
Some oven doors can easily be taken apart, meaning you can remove the glass to clean it. If you're lucky enough to have one of these, it is slightly easier to clean:
Disassemble your door, and remove the glass
Leave the glass to soak in some warm soapy water for 30 minutes
Wipe down the rest of the door using some Fairy Power Spray and warm water
Come back to the door, and wipe down with some clean warm water
Once all the grease and grime has been removed, spray your glass with Astonish Glass Cleaner to keep it shining
Reassemble your door
If you cannot remove the glass
If your oven door doesn't allow for the glass to be removed, it can be trickier to clean. But, it is not impossible!
Detach the door from your oven
Spray the accessible areas of your oven door with Fairy Power Spray, and leave to soak for 5 minutes
Rinse down with clean warm water (you may need to repeat step 2)
From the bottom of your door, there should be a small gap to access in between the glass, wrap a dishcloth over a small hanger or meter ruler
By soaking the dishcloth in warm soapy water, you will be able to fit the hanger down the gap and wipe inside the glass (this will need to be repeated until clean (remember to rise the cloth in between wipes)
Dry the inside by changing your dishcloth for a dry microfibre cloth and wiping down the inside
Reattach your oven door
Our fully trained specialists can get your oven and door sparkling again, within just a few hours, leaving you with no fuss or mess. If you would rather leave it to the professionals, call Ovenclean on 0800 840 7127 or complete our online form.