How to Set Your Own Kitchen Cleaning Schedule
Cleaning the kitchen and keeping on top of all the mess can be overwhelming unless you have an organised schedule. The goal is to keep your kitchen clean and organised, without the need for a mammoth cleaning session every weekend.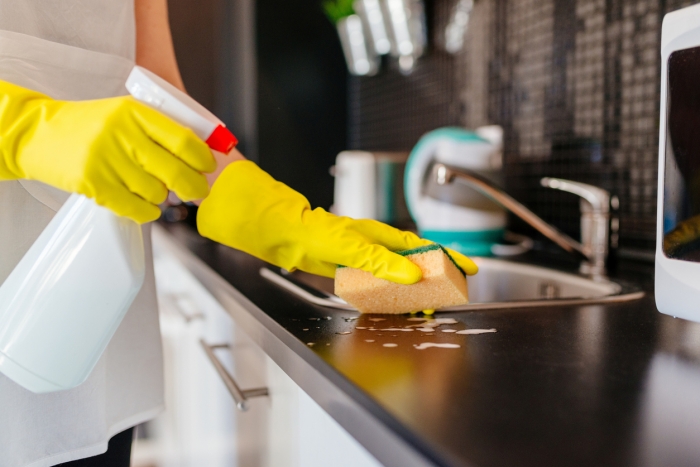 How to Create your Own Kitchen Cleaning Schedule
List the jobs
The easiest way to manage your kitchen cleaning and create a cleaning schedule you will stick to is to first list all the jobs. From deep cleaning the kitchen cupboards and degreasing kitchen tiles to taking the bins out and vacuuming, write it all down.
Decide on the duration
Once you have a list of all the cleaning jobs, write a duration time next to the task. For example, deep cleaning the fridge may take 30 minutes to 1 hour, but vacuuming could take just 10 minutes. Plus, why not challenge yourself, its surprising how much you can get done in 10 minutes when against the clock.
Assign tasks to specific days
Now you have your list of tasks and times, assign cleaning jobs to specific days. Deep clean the fridge every other Friday and join in with social media hashtags such as #FridgeFriday.
Here are some kitchen cleaning ideas on a daily, monthly and bi-annual basis:
Daily Kitchen Cleaning
Wash dirty dishes, dry them and put them away as soon as possible.
Wipe up spills from the worksurfaces, floors and kitchen appliances immediately.
Sanitise the kitchen counters.
Sweep or vacuum the floor.
Run the dishwasher (if you have one).
Remove food deposits from the sink and sanitise the whole area.
Leave cleaning cloths to soak in disinfectant ready for the next day.
Tackling the kitchen cleaning daily will reduce stress and help keep your home cleaner for longer.
Weekly Kitchen Cleaning Tasks
Replace dirty tea towels and cleaning cloths with new ones.
Mop or steam clean the floors (dependant on floor type), see our top tips for cleaning kitchen floors here.
Sort through out of date items in the fridge.
Clean inside and outside of microwave, here is the best way to safely clean a microwave.
Sanitise and clean the outside of appliances.
Deep clean the sink.
Clean cloths on a hot wash in the washing machine with laundry cleanser.
Monthly Checklist for Kitchen Cleaning
Bi-Annually
Ovenclean specialists are experts in removing stubborn stains and are fully equipped to put the sparkle back into your kitchen. Our services include cleaning the oven glass, door and racks using our safe no-added caustic system. Plus Ovenclean don't just stop at the oven, our specialists also offer Hob, Aga, Microwave, Extractor hood, Range, and even BBQ cleaning, so you can tick a few more tasks off your cleaning schedule.
Delegate
If you live with others, delegate different cleaning tasks to different people.
Write it down
Once you have decided on which tasks will be completed on which days, write it down and hang the schedule in the kitchen where everyone can see it. You could print the schedule and laminate it to ensure it stays in good condition and no one forgets their assigned task!
Stay on track
Now this is the hard part – staying on track with your kitchen cleaning schedule can be tricky and it's always easy to put things off until another day but stick with it and it'll be worth it!