It's Been a Super Summer for Ovenclean!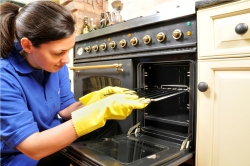 Although the weather hasn't been quite as nice as most of us might have hoped for over the past few months, Ovenclean, have experienced a truly fantastic summer following the launch of our inaugural TV campaign, which commenced in February this year!
In fact, since the national consumer-focused marketing activity was introduced in 2012, demand for our professional oven cleaning service has rocketed by a phenomenal 53%, which is helping to keep the Ovenclean network nice and busy as they head into what is traditionally the busiest time of year – the build-up to Christmas.
Marketing Manager, Lidia Benvie-Ferreiros couldn't be more pleased with the results, commenting, "We've really had a truly fantastic summer in terms of increasing awareness for Ovenclean and the fantastic results just go to show how far the brand has come over the last few years. It does mean, however, that our specialists are getting booked up well in advance, so my advice to anyone hoping to get their oven cleaned ready for the festive season, would be to book early to avoid any potential disappointment!"
If you're one of the many who likes to have a sparkling oven in time for Christmas, call us on 0800 840 7127 or click here to enquire online.