Ovenclean Film First Ever TV Advert!
We're delighted to announce the launch of our first ever national TV advertising campaign, which will commence at the end of February.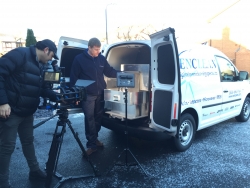 We braved the chilly conditions last week to film the advert, which will appear on a range of digital TV channels targeting Ovenclean's core customer demographic, including Sky Living, Good Food, Comedy Central, and Watch to name a few.
This new venture will establish Ovenclean as the only professional oven cleaning specialist currently appearing on national TV, representing a major investment in supporting our specialists by raising brand awareness through high impact promotion of Ovenclean's services to consumers.
So make sure you keep your eyes peeled for our TV debut!