Ovenclean is 'Sizzling Hot'!
Ovenclean services are proving to be 'sizzling hot' this year; with the Ovenclean 24/7 UK based Call Centre seeing a 20% increase in new customer enquiries year to date, on last year's figures.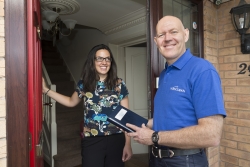 Our Chief Executive Julian Minwalla comments: "Ovenclean has seemed to buck the trend during this recession, with specialists reporting higher than ever demand for their services. As awareness of professional oven cleaning grows, customers are increasingly realising the Ovenclean service is a small luxury they simply can't live without."
Customers come from all walks of life, as Ovenclean specialist Debbie Pell explains, "There's no typical customer. Some people are very house proud and want to keep their oven pristine, others are simply too busy to fit in cleaning the oven until it gets to a point where they can't put up with it any longer. No matter how dirty, we are able to transform their oven so that it's virtually as good as new. In fact, people are absolutely amazed at the results and those who have never had their ovens cleaned professionally before invariably turn into regular customers."
Every household has an oven, every oven has to be cleaned regularly and research shows that virtually everyone hates cleaning their oven. Add to that increasingly busy lives, where both partners usually work and free time is precious, together with an ageing population in need of support to cope with physically demanding chores and the result, is a rapidly growing demand for a professional oven cleaning service.
Julian Minwalla adds, "Once customers have experienced the astonishing results of a professional oven clean, they never look back! Ovenclean offer a quality service, competitively priced – a 'win-win' situation for any customer!"
If you would like your oven cleaned, call us on 0800 840 7127 or complete our online form.