It's Not Too Late to Make a Christmas Cake!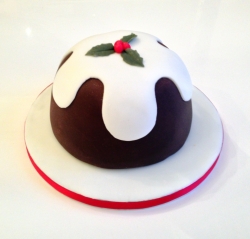 Is it too late to make a christmas cake? Of course not! With some people making their Christmas cakes in the early autumnal months, don't panic if you haven't started yours yet! This easy recipe means you still have time. We will be decorating ours to look like a Christmas Pudding. But, why not put your own twist on yours.
What you'll need:
For the cake
Mixed dried fruit
Glace cherries
2 tbsp Disaronno
½ Orange
½ Lemon
175g butter
175g dark brown sugar
1 tbsp black treacle
3 eggs
175g self-raising flour
50g ground almonds
½ tsp ground cinnamon
½ tsp ground ginger
Whisky, rum or sherry (to feed)
To decorate
Apricot jam
Ready-rolled marzipan
Ready-rolled white icing
Ready to roll brown icing
Water
Steps:
To make the cake
Soak your mixed fruit and cherries in 2 tbsp of Disaronno and the juices of the orange and lemon (ideally overnight).
Line/grease a baking tin (we used a 20cm bowl-shaped baking tin to get the pudding look).
Mix the butter, sugar and treacle in a bowl, until smooth.
Add the eggs and flour in three stages.
Add in the ground almonds, cinnamon and ginger.
Mix in the fruit.
Transfer into your baking tin.
Bake in the oven at 140°C for 2 hours (stick in a skewer or knife to check the cake is cooked through).
Remove the cake from the oven. Poke in a few holes, and feed with 2 tbsp of your chosen spirit.
Leave the cake to cool completely.
To decorate
Boil 2 tbsp of apricot jam in a pan. Sieve away the lumps, and leave to cool.
Even out the surface of your cake. You can do this using a knife, or by pushing some marzipan into any gaps.
Brush a thin layer of jam all over the cake.
Place your ready-rolled marzipan over the top of your cake (be careful not to rip it).
Trim away any excess marzipan.
Allow the marzipan 2 days to dry.
Brush some water over the marzipan.
Roll out the brown icing, and apply to the cake (covering all marzipan).
Brush some water over the brown icing, in the areas you would like the white icing to stick.
Cut your white icing to shape, and place over the top.
Enjoy!
Notes:
If you want to be truly professional, use an icing smoother to polish your marzipan and icing when applying. This will help to give it a smooth and shiny look.