How to Host a Dinner Party
If you are hosting a dinner party for the first time, this is a fantastic opportunity to show off your culinary skills and entertain your guests, but you will need a detailed plan.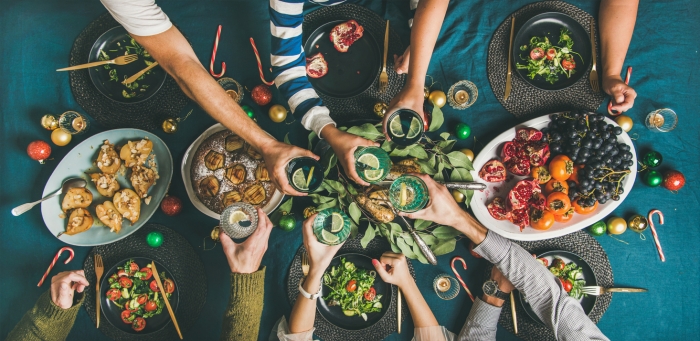 To help you achieve your dinner party goals, we have put together a guide on everything you need to know about hosting a fun-filled dinner party.
1. Decide on a date and who to invite
Planning in advance, will reduce stress and help everything to go smoothly. Once you decide on a date, time and who to invite, it's time to send out your invitations. If your dinner party has a formal theme, then a traditional card invitation will give your dinner party a luxury feel. However, if you are hosting a casual dinner party, then an email or text message will be enough.
2. Plan your menu
When planning your dinner party menu, it's wise to cook something you are comfortable and familiar with. It's important that you feel relaxed and confident when hosting so sticking to what you know will help prevent mishaps and stress. Always plan more food than you think you will need, it's better to have too much, than guests leaving hungry.
3. Think drinks
It's traditional to pair wine with your food menu when hosting a dinner party. But it's also the perfect opportunity to serve delicious cocktails. Afterall, who doesn't love the fun of a cocktail? You could even get your guests involved with a cocktail making masterclass. Remember when hosting any dinner party, you want to cover all bases, so make sure you have soft drinks available for those who don't drink alcohol.
4. Set the mood
Theming your dinner party can help to set the mood and enhance the experience for guests. The table setting is a chance to wow your guests. Once you have a theme in mind, for example, Mexican, Italian, Tapas, formal, Summer or a decade, it's time to design on your table setting. Start with the cloths, a crisp white tablecloth works well for a formal dinner, and a red cloth would look great for a tapas dinner party.
Then think about your table centerpiece. Flowers are a simple but effective way to add style to any table setting. Choose a colour that matches the theme and why not search online for dinner party inspiration?
5. Clean like a pro
If you are cooking a three-course meal for your guests, you will likely generate a lot of mess in the process. Our best advice is to clean as you go, this will avoid a mammoth kitchen cleaning session before your guests arrive. Here are our top 5 kitchen cleaning tips.
6. Prep the house
Whether you are hosting a casual dinner party for friends or a formal party for family, make sure you prepare your house for your guests. Here are some top tips to get your home ready:
Clutter – Remove clutter from any room your guests will be spending time in. For example, make sure the hallway is free from shoes and coats and that your dining room is clear of any household clutter, such as letters and homework.
Bathroom – It's likely that your guests will be using the bathroom while at your dinner party so it's best to give it a deep clean.
Floors – While prepping your menu, the kitchen floor can get messy. So, give the floors a quick sweep or vacuum before your guests arrive. Here are our top tips for cleaning your kitchen floor.
Smell – Entering a home that smells good is a welcome treat for your guests. Once your cleaning is complete, you could light a candle or spray your favourite air freshener.
If you plan in advice, you could even impress your guests with a professional oven clean.
Now your table is set, your food is ready, and your guests are arriving, all that's left to do is relax and enjoy your dinner party. Plus, we have put together some final dos and don'ts for hosting a dinner party.
Dos and Don'ts for Hosting a Dinner Party
Dos:
Make your guests feel at home, this will help them relax and enjoy the party.
Have a seating plan and name cards so your guests know where to sit.
Consider a vegetarian option as a backup.
Relax and enjoy the party.
Don't:
Don't play music too loudly. Although music can create ambiance, you want your guests to be able to hear each other.
Don't sit couples together, it's fun to mix it up and create new conversations.
Don't stress out. Stay calm and enjoy hosting.
Once you have hosted a successful dinner party, it's time to sit back, relax and let Ovenclean take care of the oven, hob and microwave cleaning. Speak to your local Ovenclean specialist for a free no-obligation cleaning quote.