January Kitchen Cleaning Checklist
A new year calls for a fresh start with a sparkling clean kitchen. The Christmas festivities can leave your kitchen looking tired and in need of a deep clean. It's a good idea to have a regular kitchen cleaning routine to keep on top of the weekly chores. But in January we recommend deep cleaning those often forgotten about areas.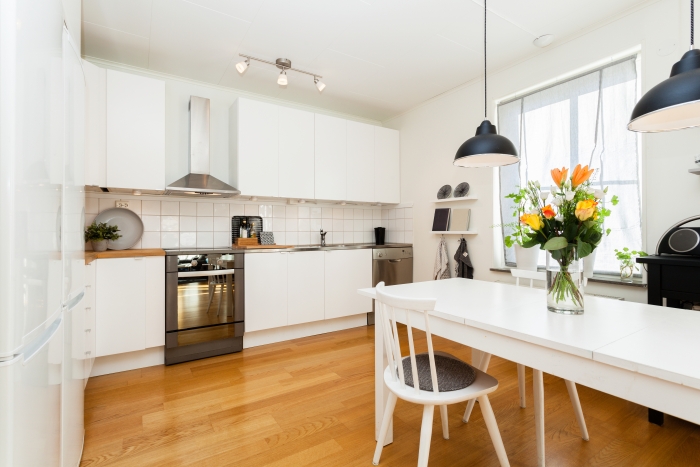 So, we have put together some quick and easy tips for cleaning those put-off kitchen chores. Then by the end of the month, your kitchen should be clean, hygienic and mess-free.
Plan your January Clean
Start by planning your deep kitchen clean. Write a list of all the areas you would like to tackle over the month and list them in order of priority. We have listed some often forgotten about areas below to guide you. Then plan your cleaning tasks into your January schedule, if there are jobs that your family can help with, write those down too. Once a job is complete, tick it off the list for the ultimate satisfaction.
Finally, take this planning time to throw away any out-of-date or empty cleaning products. If you are looking for new products to deep clean the kitchen this year, see our top kitchen cleaning products list here.
Deep Clean the Oven
Ovens often bear the brunt of the hard work over the Christmas period with inevitable grease spills and exploding Yorkshire puddings leaving grime and debris behind. This burnt-on grease and grime can affect the taste of your food and reduce the oven's efficiency, so it's really important to regularly clean your oven. If you don't fancy the DIY oven clean, you can book a professional deep cleaning appointment with a local oven cleaning specialist.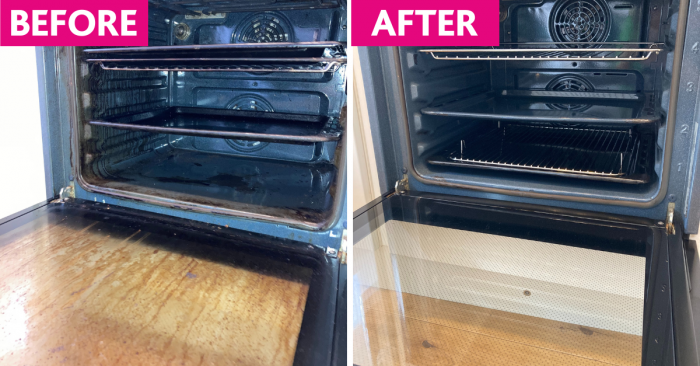 Disinfect Bins
Start by disinfecting your kitchen bins. If you have noticed a strange smell in your kitchen after the Christmas festivities, a dirty bin could be the reason. Empty and clean the bins thoroughly, including the inside and outside. Then wipe the bins down until they are completely dry. Finish with a sanitising spray or wipe for maximum hygiene.
Steam Clean the Microwave
A microwave is an essential appliance in the kitchen, but it can often get forgotten about when it comes to cleaning. But did you know, you can get the microwave to basically steam clean itself? Read our top tips on steaming the microwave here.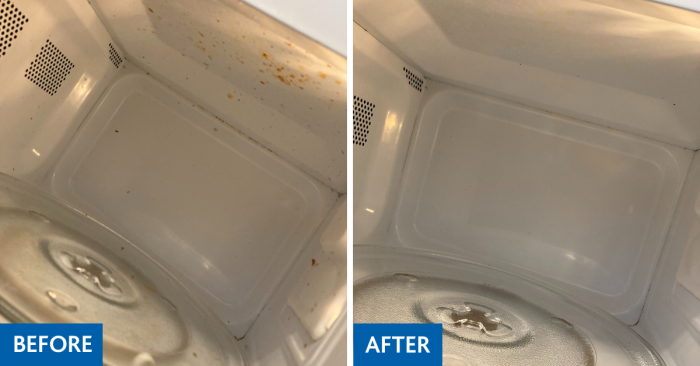 Declutter Kitchen Cupboards and Drawers
Over time kitchen cupboards and drawers can accumulate clutter that does not belong there. We all have that one drawer full of old chargers, keys and batteries. So set some time aside to declutter and reorganise. If you have crockery and glasses that you only use at Christmas, safely store these away to leave more room for the things you use every day.
Wipe Skirting Boards
Cleaning the skirting boards is a job we are guilty of putting off. However, the skirting boards in your kitchen can quickly gather dust, dirt and grease.
Top tip: a bowl of warm soapy water, a cloth and some elbow grease are all you need to get your skirting boards gleaming!
Clean Windows and Window Sills
Cleaning the windows is a job we all put off but once you get started, it's really not that bad. Plus, January is a great time to tackle the windows as the colder weather could result in condensation and a build-up of mould. Also, take this time to book a window cleaner to clean the exterior windows.
Top tip: for a streak-free finish, use a microfibre cloth to buff the windows dry.
Clean out the Fridge
It's common to have a fridge full of leftovers in January from the Christmas holiday. However, for food safety reasons it's a good idea to sort through your fridge contents once a week.
Top tip: Use a marker pen to write the date on any leftovers. This way you will know when the food needs to be consumed.
Time to clean! Remove everything from the fridge and sort through the contents. Then remove all the shelves and drawers, thoroughly clean them in warm soapy water, ensure they are dry and then replace them.
Clean the Washing Machine
We often forget to clean the things that clean for us, however over time the washing machine can accumulate grime that will affect its performance. There are many low-cost products on the market that clean and sanitise the washing machine for you, examples can be found on Amazon here.
Deep Clean Carpets and Floors
You will be surprised at how much dust, hair and grime build up on your carpet and on your floors. As well as regular vacuuming and mopping, we recommend deep cleaning your carpets and flooring every couple of months. You can hire a professional cleaner or do it yourself by hiring specialist machines. Here are our top tips for cleaning the kitchen floor.
Dust Light Fittings
Light bulbs, shades and switches are an often forgotten about area of the home and kitchen. However, dust and dirt can quickly build up in these areas, so it's important to regularly dust them with a soft cloth. Just make sure the light is turned off and the bulb is cool to the touch before dusting.
Clean Radiators
It's surprising how much dust and grime can be found on a radiator, especially those in the kitchen. Before cleaning any radiator ensure it is turned off and cool. Top tip: you can buy a long-handled duster to reach the dust trapped down the back and inside the radiator.
Freshen Grout
If you have tiles on your walls or floor in the kitchen, the grout can become discolored over time. We recommend deep cleaning the grout every couple of months to keep your tiles sparkling. Top tip: an old toothbrush is the best tool for this job. Click here for all our kitchen tile cleaning tips.
Remove Limescale From Taps
Limescale is extremely common on kitchen taps, so don't be alarmed if you find it. Simply use a white vinegar and lemon solution to remove the limescale. This will leave your kitchen taps sparkling clean.
January is also a good time to sanitise all hard surfaces in the kitchen and home, to avoid the spread of the winter cold and flu germs. So, with all these January kitchen cleaning tips you are ready to kick start the year with a sparkling clean and germ-free kitchen.