Moules Mariniere: Recipe of the Month for September
One of the best ways to keep your grocery shop at a minimum cost-wise is to shop in season. Mussels are perfect at this time of year and what better way to enjoy them than with this traditional 'Moules Mariniere' recipe! Why not make it for that special person in your life and try out some Oysters as a starter, which are also in season now.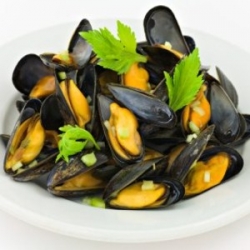 Ingredients:
1kg mussels, cleaned and de-bearded – remove any open ones which don't close upon tapping on a hard surface
2 tbsp olive oil
2 cloves of garlic, finely chopped
1 small onion, finely chopped
150ml of dry white wine
Salt and pepper
Bouquet garni or 2 sprigs of thyme
150ml single cream
A handful of flat leaf parsley, chopped
Method
Some crusty bread to serve
Thoroughly clean the mussels under cold running water, removing any barnacles and broken bits of shell.
Pull off the 'beards' (stringy part hanging out of the end of the mussel) and discard.
Remove any broken mussels and discard any open ones which don't close when you tap them. Rinse again.
In a pan which has a lid and is large enough to hold the mussels, heat the oil and add the onion and garlic. Cook over a medium heat until softened.
Add the wine, mussels, a little salt and pepper, and the thyme/bouquet garni and bring up to the boil. Add the lid and let the mussels cook in the steam for about 5 mins, giving the pan a good shake around occasionally. All the mussels should have opened, but remove any which have not as these are not safe to eat.
Remove the bouquet garni/thyme sprigs and add the cream and most of the chopped flat leaf parsley. Allow to cook for a further 1-2 mins.
Remove from the heat and serve immediately in deep bowls. Scatter with the remaining parsley and make sure you have some nice crusty bread to dunk into that yummy Moules Mariniere sauce!
Don't forget some spare bowls for the shells
There you have it, a delicious recipe for Moules Mariniere which takes next to no time to prepare! Bon appetite!
If your cooker is still looking in need of some TLC after you've done the dishes from this meal, get in touch with Ovenclean today for professional oven cleaning that will bring the shine back to your oven and hob. Call us on 0800 840 7127, or complete our online form.