Recipe for a Bonfire Night Treat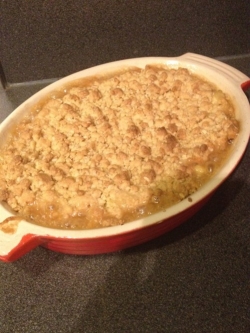 Bonfire Night Recipe
It's time to remember the 5th of November again – Bonfire Night, or Guy Fawkes' Night, whichever you prefer – is upon us!  Since we are going to be heading out into the cold to enjoy fun and fireworks, we asked food blogger, Taylah Catlow, to share her favourite bonfire night treat with us.  She obviously also has a thing for toffee apples (as we discussed in our recent Sticky Toffee Apple Cake post) and so suggested a lovely variation on the humble crumble, which would be so much better than trying to eat a fluffy, caramel coated fruit on a stick! So nevermind hot dogs and burgers, try a serving of this before you head out to the festivities.
Toffee Apple Crumble
For me, toffee apples epitomise Bonfire Night in all their deliciously sticky, gooey glory. So I couldn't resist adding these flavours to everyone's favourite dessert – a crumble! – when the time came to celebrate this holiday again. With a rich butterscotch toffee sauce, sweet tangy apples, and a crunchy oaty topping, you'll find this comforting crumble is the perfect dish to tuck into whilst watching the fireworks this year!
Serves 3-4
Ingredients:
10 Bramley apples, peeled and cut into chunks
A squeeze of lemon juice
120g self-raising flour
75g cold butter, cubed
4 tbsp of light brown sugar
Handful porridge oats
For the Toffee Sauce:
50g soft light brown sugar
50g unsalted butter
2 tbsp milk
2 tsp vanilla essence
120g icing sugar
Method:
Preheat the oven to 200C or gas mark 6.
Melt a knob of butter in a frying pan, then add the cubes of apple and fry for 8-10 minutes until they start to turn golden and soften slightly. Squeeze in the lemon juice, then transfer the apples to an oven-proof dish.
To make the crumble rub the cold butter into the flour, then stir in the sugar and porridge oats. Set aside.
To make the toffee sauce: put the butter, sugar and milk in a saucepan and bring it to the boil. Remove it from the heat and stir in the icing sugar and vanilla essence, then whisk until smooth.
Pour the toffee sauce over the apples, then scatter over the crumble mixture until it is all covered.
Bake the crumble in the oven for 15 minutes until it's golden and the filling is bubbling. Serve it with ice cream and pour over any extra toffee sauce that is leftover in the dish.
You could either make it in a big dish or use ramekins to make little individual portions. Either way, it's going to taste like a hug in a bowl and will be perfect for a chilly Bonfire Night!
About Taylah:
Birmingham Student Foodie is a food and cocktail blog which I started after discovering my passion for cooking and love of finding new places to eat out at in my new home, Birmingham. What started as a Birmingham-based blog has now expanded to the whole of the Midlands, and I write reviews of the best restaurants, street food, coffee shops and cocktail bars here. I also blog about foodie events in the Midlands (and occasionally in London too when I get the chance to hop on the train there!), create tasty recipes, and review foodie products and cookbooks.