Bonfire Night Recipe: Party Food Ideas
So, Halloween is over – now it's time to wrap up warm, get cosy around a bonfire and eat some comfort food for your bonfire night party!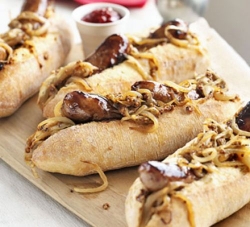 These honey-glazed hot dogs will be a real crowd-pleaser as they're warming and delicious, and are guaranteed to make your bonfire night party go off with a bang!
Ingredients
4 tbsp honey
2 tsp wholegrain mustard
24 pork sausages
4 ciabattas, split lengthways and cut in thirds
Method
Preheat the oven to 180°C.
Put the mustard, honey and onions (optional) into a saucepan, then simmer for 15 minutes, until everything is mixed in.
Meanwhile, put the sausages in a roasting tin and cook for 10 minutes, then coat with half of the mixture and then put back into the oven to cook for a further 5 minutes.
Brush the meat with the rest of the glaze, then return the tin to an oven for 10 minutes until golden brown and sticky.
Put the ciabatta in the oven for 5 minutes, then take out and spoon
If you need your oven cleaning after your bonfire party, call us today on 0800 840 7127 or complete our online form for your free quote.