Ovenclean Achieve a Score of 9.9 on Trustpilot
We have recently achieved a rating of 9.9 from online consumer review company, Trustpilot.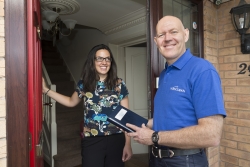 Research has proven that cleaning the oven is the most hated household chore and that people who spend money on saving time rather than material items are happier overall. Therefore, more and more people are turning to us and are evidently very satisfied with the service that they're receiving.
"Over the last twenty years, our franchise partners have built a fantastic reputation by providing first-class customer service and exceptionally high-quality cleaning." States Tim Harris, CEO of Franchise Brands plc, Ovenclean's parent company. "Our network takes great pride in their careers, so we are thrilled to see that their skill, hard work and dedication is being recognised by their customers."
"We are very proud of our franchise partners, and we hope that this achievement will help to grow the widespread trust and recognition of the Ovenclean brand."
We are pleased to see that the reviews are coming from all over the country, from owners of all different types of ovens, ranges, hobs, agas, extractor fans, barbecues and microwaves. This demonstrates the consistency and skill of our specialists, who are able to restore the shine to various kitchen appliances.
If you would like to leave or review or, would like to see what our customers have to say about us, visit our Trustpilot page here: https://uk.trustpilot.com/review/ovenclean.com
To book in your oven clean, or get a free quote, call us on 0800 841 7127, or complete our online form.
Alternatively, you can find out what it means to be an Ovenclean franchisee here.