The Best Ways to Clean an Induction
Unsure how to clean induction hob? Don't worry, we're here to help. Most modern kitchens will either have an induction or ceramic hob. Induction hobs are efficient, safe for families and look really sleek in the kitchen. There are different hobs on the market that all require different cleaning methods and products such as a glass hob cleaner, if you are wondering how to clean glass hob and other glass elements, you will need to be extra careful, make sure you follow a different method for anything glass. Induction hobs are the most popular hobs out there. Pan mark on induction hob and other other elements are very common, the good news is they can be cleaned, however induction hobs are notoriously prone to scratches and scuffs when using the wrong cleaning products. However, there are plenty of safe and effective DIY methods to put the shine back in your induction hob. But if you don't fancy the challenge, you can always call your local hob cleaning specialist.
A clean induction hob will be more efficient than a dirty one, this is because when they are clean, they can transfer heat more effectively from the ceramics to the cooking vessels. Removing dirt from the surface will also ensure the shine is retained, and makes it easier to see the guide marks on the surface of the hob.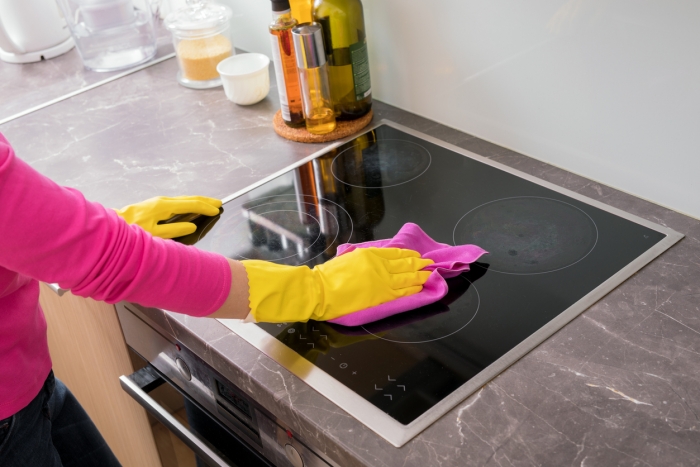 How to Clean an Induction Hob
You will need:
Non-scratch sponge
White vinegar
Baking soda
Spray bottle
Hob cream cleaner
2 x Microfibre cloth
Method
Remember to switch the hob off and wait until it is completely cooled before cleaning.
Using a microfibre cloth, wipe up all the loose food and dirt from the hob.
Now we can see what we are working with and highlight those particularly grimey areas.
Apply a small amount of hob cream cleaner to the hob (a little goes a long way), then use a damp soft sponge or cloth to remove the stains from the hob.
Use a soft microfibre cloth to wipe away any moisture and buff dry.
Spray with a glass cleaner to make the whole surface shine.
How to Clean the Induction Hob with Baking Soda and Vinegar
Combine 1-part baking soda with 1-part white vinegar in a bowl or spray bottle.
Then cover the hob in the solution and leave for 30 minutes.
When the time is up, wipe away the product with a soft damp cloth, repeat if necessary.
The solution should make any grime easy to remove.
Once the hob is clean, make it sparkle by spraying it with white vinegar and buffing dry with a microfibre cloth.
Induction Hob Cleaning and Maintenance
To keep your induction hob in tip top condition, its important to complete regular maintenance.
Choose the right pans. Avoid using pots and pans that can scratch the surface of the glass stove.
Clean spills immediately. To avoid a big clean later on, clean spills up as soon as you can. Sticky sugary stains should be cleaned as quickly as possible with a damp soft cloth or sponge.
Regular cleaning. After every use when the hob is completely cooled, wipe it over with a damp cloth to remove any stains caused by cooking.
White Vinegar is a fantastic natural degreaser and can be used to add a shine to your induction hob.
Things to Avoid
Avoid using abrasive and caustic cleaning products, not only do they contain toxic chemicals, they will also damage the hobs surface.
Similarly, avoid using any products that contain ammonia or bleach as they can permanently stain the stove.
Finally, don't use a scouring pad or steel wool on an induction hob. These tools will scratch the surface of the hob and food grime will become embedded in the damage.
Professional Hob and Oven Cleaning Services
If you are still unsure how to clean induction hob, are specialists can help. Ovenclean specialists use a 'no added caustic' cooker cleaning solution, unique to Ovenclean, which gives your hob a sparkling clean finish. Plus, the gentle formula is safe to use on any surface including induction hobs, so it will uphold and protect the finish of your hob.
Save yourself the hassle of cleaning the hob by booking a professional deep clean today.