What is a Range Cooker?
Range cookers are popular with UK homeowners because they are stylish and very useful when cooking more than one item. But you may wonder what actually is a range cooker and what are the benefits compared to a standard oven. In this guide, we answer some of the frequently asked questions on range cookers.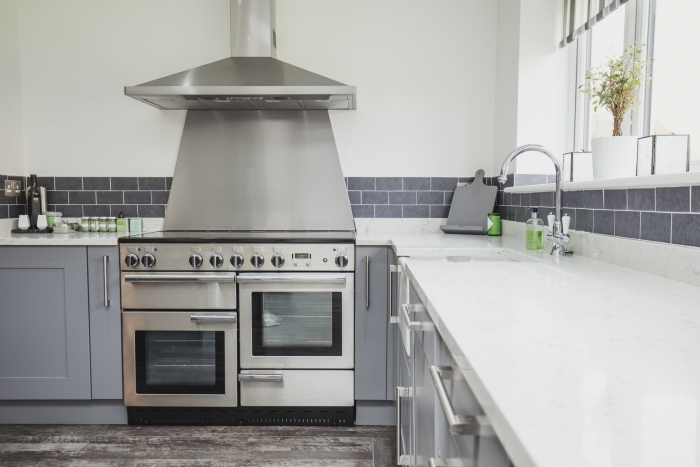 What is a Range Cooker?
If you are shopping around for a new oven, you may come across range cookers. Essentially a range cooker is a free-standing appliance that combines an oven and hob into one. The oven in a range is typically bigger than an integrated single oven. However, most range cookers have two ovens, side by side, while others also feature a grill, warming drawers, and storage compartments. So essentially a range cooker is a large appliance featuring one or more ovens and a hob.
Difference between a Range Cooker and Standard Oven
Range cookers function in a similar way to standard ovens but have added size, burners, and versatility. A range cooker is a freestanding, all-in-one unit that contains at least one oven and a built-in hob. It is free-standing and in most kitchens, will slot into a gap between your units and counter. Whereas an oven is an appliance that is used for roasting and baking and does not feature a hob. Ovens can be integrated into kitchen units for a streamlined look.
What are the benefits of a Range Cooker?
Size – A range cooker is a large appliance, meaning it can cook more than one thing at a time. Range cookers are ideal for families or when cooking for a large number of people.
Multifunctional – A range oven is more versatile than a standard cooker. Due to their size, there is the option to grill and roast at the same time.
Storage – Range cookers typically have storage built in, so you can store oven trays, pots and pans in the drawers below the oven, saving space in your kitchen cupboards.
Style – Range cookers are not only versatile; they look awesome too. These cookers come in a variety of designs to suit different kitchen styles. Plus, they are guaranteed to be the showstopper of your kitchen.
Range Cooker Sizes
Range cookers are usually the same height and depth; however, they do come in different widths depending on the space available or the design of the kitchen. Range cookers come in three standard sizes; 90cm, 100cm and 110cm. For smaller spaces there is also a 60cm mini range cooker, although this size does not offer the capacity of a standard range cooker, it does offer the stylish range look.
The 90cm range is only 30cm wider than a standard oven/cooker and is most suited to families or those who like to entertain. It typically features a grill, an oven and a tall fan oven, with five burners on the top.
100cm range cookers are very versatile and offer additional cooking space. Most of this size come with at least four separate compartments. Typically, 100cm cookers will have two or three large ovens, a grill and up to seven burners on the top. These features make it much easier for the user to cook multiple meals at one time or for a large gathering.
The 110cm range is the largest standard size available to buy and ideal for those who have a lot of space in the kitchen.
Professional Oven Cleaning
Ovenclean specialists only use a unique series of cleaning solutions to clean your range. You can be absolutely certain that Ovenclean range cleaning and stove cleaning specialists will restore your cooker to 'as-good-as-new', whatever its finish – enamel, chrome, or stainless steel. No matter what make or model of range or stove you may have, at Ovenclean we can help you out.