5 Steps to Remodelling a Kitchen That's Easy to Clean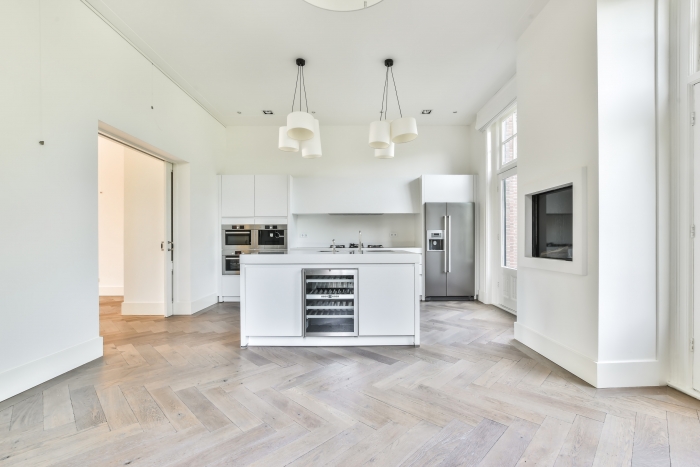 Ovenclean / Kelly Edwards
We all know that the kitchen can quickly get dirty when preparing and cooking food. But we also know that it needs to be the most hygienic room in the house, so as to avoid any bacteria that could lead to food poisoning. So, it is important to keep your kitchen as clean as possible. But, you don't want to spend hours everyday cleaning and scrubbing, so what are the best ways to get your kitchen clean with the minimum of time and effort?
Kitchen worktops
Your kitchen surfaces are the areas that will get the most use and will, therefore, also get dirty quickest and most often. The hygienic properties of your kitchen worktop are very important, and being able to just wipe it clean with a damp cloth and some antibacterial spray is the quickest and easiest way to keep it in good condition.
Laminate kitchen worktops are ideal for this purpose, and are also the cheapest option on the market. Nevertheless, wooden worktops are sought after additions to a kitchen, and you may decide that having something that long-lasting in your kitchen remodel is worth the extra expense, as it will be more durable as well as look stylish and more upmarket.
Cupboards and storage
Keeping everything stored away in kitchen cupboards, drawers and islands will make cleaning your kitchen much easier. Cleaning inside your cupboards once or twice a year will be fine, and storing pots, pans, crockery and utensils in this way, rather than keeping them out and on display, negates the requirement for extra cleaning and dusting to keep everything spick and span.
It is certainly a more sensible option for an easy-to-clean kitchen than having open shelving which will need regular wiping, as well as needing all the items on the shelves to be cleaned more often than if they are hidden away out of sight.
Flooring
Definitely one of the more tricky areas to clean is your kitchen floor. Most kitchens will see plenty of foot traffic from all members of the family, as well as pets, bringing in muddy footprints, dropping crumbs and all manner of other foodstuffs, spillages; the list goes on.
Having a floor that can withstand all this use, and be easy to clean is a must. Vinyl has always been a popular choice for kitchen floors as a quick mop and it is visibly clean. However, that doesn't always mean it is clean deep down, and nasty germs can fester in what is quite a porous surface.
Ceramic or stone tiles have gained in popularity. As well as being aesthetically pleasing, they can be wiped clean with little effort and will naturally be a more durable surface than vinyl or laminate.
Adding an extension
Increasing the size of your kitchen may seem counterintuitive as it will give you a bigger space to clean. But, if you are using the additional room for a utility space or dining area, it enables you to keep it separate from the food preparation space, and it should need less cleaning than the main kitchen area.
Admittedly, this can be quite an expensive choice for your kitchen remodel, but you may find the extra useful space takes some of the pressure off the number of people who use the kitchen itself on a regular basis and reduces how much cleaning is required.
Appliances
Modern appliances tend to be easier to clean than older ones. Plus, if you get a new oven or washing machine, for example, you might be more inclined to keep it clean, whereas your older appliances might be beyond help!
Keeping your oven and hob clean will help further to make sure you have a hygienic kitchen that isn't being contaminated by food debris and residue. Having your oven professionally cleaned also saves you a job and you can be assured that the job is done properly. It won't take long, and doesn't cost the earth, so is definitely worth considering.
Final thoughts
Cleaning your kitchen is a necessary part of everyday life, but it doesn't have to be arduous. Remodelling your kitchen to make the most of materials and objects that are easy to clean saves you both time and money in the long-term, even if the initial financial outlay may be higher. Nevertheless, the time you save not having to clean is well worth getting it right, allowing you to spend more time in your kitchen cooking and socialising, and less with a mop or cloth in hand.