How to Clean Your Cooker Extractor Fan
What is a Cooker Extractor Fan?
An extractor fan is a mechanical fan that hangs above the cooking top or stove of an oven. The purpose of the fan is to remove any grease from the air, nasty fumes or smoke, excessive heat or steam. It evacuates all of these from the air, making the kitchen a safer environment for everyone involved.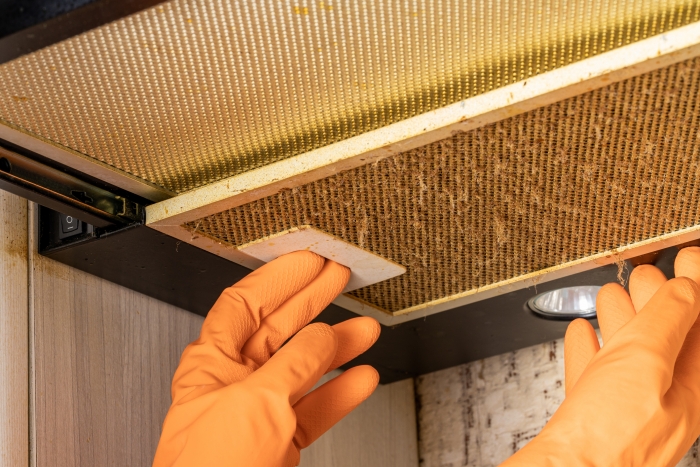 What do I Need to Clean a Cooker Extractor Fan?
Warm Water
Washing up liquid
Kitchen Towel
Damp Cloth
Cleaning Sponge
Before you begin the clean
Make sure you always unplug the exactor before beginning any cleaning routines. Water and electrics are a big no go, so keep yourself safe and make this your first step of the process. You will also want to make sure the hob and oven are turned off and cold to avoid any danger of burning yourself during the clean.
The cleaning process
Once the extractor is unplugged, you can begin by removing the outer cover. Mix together some warm water and washing up liquid to create your cleaning solution. Using your sponge, wash the cover thoroughly. If your extractor fan has a hood that cannot be removed, don't worry. Instead soak the sponge in warm water and wash it carefully.
Next you need to dry the extractor fan thoroughly using your kitchen towel. Back to your warm washing up liquid solution, rinse your damp cloth in the solution and ring out. Squeeze the cloth hard to get all excess water out, it's important that the cloth is damp and not wet. Use the cloth to gently wipe the fan blades until they come up clean.
Cleaning the Filters
Always check the instruction manual before you begin to remove any of the extractor fan parts including the filters. If your extractor fan contains filters, you can still wash them with your washing up liquid solution. However always ensure they are fully dry before replacing. Here is our full guide on how to clean extractor fan filters.
Bring in the experts
Sometimes your extractor fan might need a little extra work to bring it back to new. Our Ovenclean specialists offer a extractor fan deep cleaning service. Our Ovenclean specialists use a no added caustic system which ensures customers benefit from a safe and hygienic environment. Leave our specialists to transform your oven and extractor fan whilst you sit back and relax. To discuss your requirements with your local specialist, give us a call today on 0800 840 7127 or click here for your free no-obligation cleaning quote.