How to Remove Grease Stains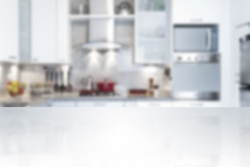 Grease can get everywhere and is arguably the worst part of both cooking and cleaning. Luckily, our easy tips and tricks will help you remove grease stains from your tiles, splashback, hob and more!
Also see our recent blog for information on How to Remove Oven Grease.
Dab it clean
If you're lucky enough to spot the grease land on your splashback, you can quickly dab it clean with a damp piece of kitchen roll. Make sure you don't wipe as it can smear the grease, making it harder to clean.
Wipe it off
Once you have dabbed the grease away, or if you're too late, you can wipe your grease stain away. Using some washing liquid and water, wipe the grease away with a sponge. Using circular motions will help to focus on the area.
Stubborn grease? Call in the products
Some grease stains just won't go away that easily, especially those that get burnt onto our hobs. It's okay, we have the perfect homemade solution to remove grease stains. Mix together some baking soda and water, into a paste. Apply this paste to the stain and leave for 30 minutes. You can then rinse it off with warm water and dry!
Or, you can also use off the shelf products, such as Cillit Bang Power Cleaner Degreaser Spray. If you are using off the shelf grease stain remover, be sure to follow the instructions.
Alternatively, if you would prefer to leave it to the professionals, our Ovenclean specialist can help get your oven and hob shining again. Simply click here for your free quote, or call us on 0800 840 7127.
Disclaimer: Be careful when applying cleaning formulas to different surfaces in your kitchen. It is always best to test on a less visible area before applying to the whole surface.