How to Clean an Electric Stove
Cleaning electric hob and stoves can sometimes be a messy job. Electric stoves are a staple of homes across the world, providing heat that is almost instant and evenly distributed. But, grime can quickly build-up on traditional electric stoves and glass stovetops. It only takes one spillage of spaghetti Bolognese to ruin the sparkle on your electric stove. How to clean electric oven and hobs is tricky because there are so many different methods. We have put together a few of our favourites to make your life a little easier.
Safety first: Before cleaning an electric stove or oven, always make sure the stove is turned off and cold.
How to Clean Electric Stove Top with Burners
This type of electric stove top features burners, also known as coils or rings. These coils are constructed of spiral steel tubing that has a heating element, powered by mains electricity.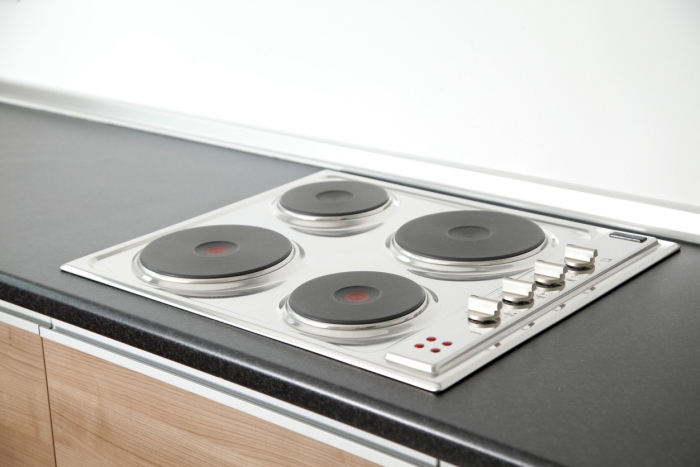 You will need: a cleaning cloth, washing up liquid, baking soda and warm water.
Ensure the stove burners are completely cool, before removing them from the electric stove. If you are unsure how to remove the burners, please refer to your user manual.
Wipe away any dirt from the coils with a damp cloth and washing up liquid.
Also clean any spills and grime from the stovetop with a soapy cloth, but be careful not to get the electrical connection wet.
If the grime is proving hard to remove, make a cleaning paste with baking soda and water. Rub this paste on the grimey section and leave to soak for 20 minutes.
When the time is up, clean the baking soda paste off the stove and as if by magic, all the grime should be gone.
When the electric stovetop and stove burners are all clean, make sure they are completely dry before returning the burners back to the stove.
Then that's it, sit back and admire your sparkling clean electric stove.
How to Clean an Electric Glass Stove
Ceramic glass stovetops feature a type of toughened glass and have a hidden heating element below the glass, powered by electricity.
If your electric glass stovetop is looking a little worse for wear, then here are two easy ways to make the stove sparkle like new. Firstly, using a stove cream cleaner and secondly cleaning the stove with natural products.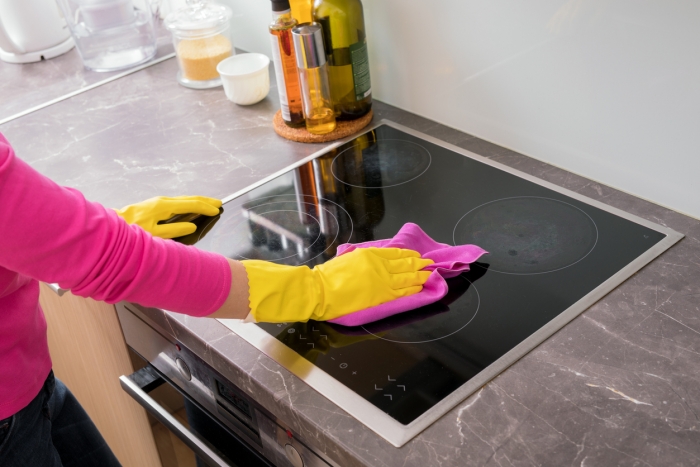 Cream Cleaner Method
What is the best stove top cleaner?
You will need: 2 x cleaning cloths or paper towels, oven cleaning razor, warm water and cream cleaner of choice.
Wipe the glass stove over with a dry cloth or paper towel to remove any pesky food crumbs from the electric stove.
Carefully remove burnt on spillages with an oven cleaning razor if necessary.
Using a stovetop cleaner of choice, squeeze a few drops of the cleaner onto the stove and use a cloth or sponge to move the cleaner around the surface.
Once all the stains are loosened by the cleaner, remove all the product with a paper towel or clean cloth.
Then spray the glass stove with water to remove any remaining cleaner and buff up with a clean dry cloth, to get that showstopping sparkle!
Baking Soda and White Vinegar Method
You will need: 2 x clean cloths, baking soda, white vinegar, hot soapy water and a tea towel.
Remove any food from the stove with a dry cloth.
Then cover the glass stove with baking soda.
Spray the white vinegar all over the baking soda, and listen out for the cleaning fizz!
Now this is where the true magic happens. Fill a bowl or sink with hot soapy water, then place a tea towel into the water. Remove the towel and wring it out so it remains damp.
Place the damp towel onto the stove and leave for 10-15 minutes. The combination of the baking soda, white vinegar and hot towel will do all the hard work for you.
When the time is up, use the towel to rub away any remaining stubborn stains.
Then clean away all the baking soda with a clean cloth and dry your glass stove.
Now that your electric stove is sparkling clean, it's good enough to eat off! Just remember if you want to keep your stove clean, it's as simple as giving it a wipe over every time you cook.
If the natural cleaning method worked well on your stove, why not try cleaning your oven with a homemade cleaner too – find the method here.
How often should you clean your electric stove?
The fact of the matter is – the best way to keep your electric stove sparkling clean is to clean the stove after every use. Use a damp cloth or sponge to remove any spills from cooking, every time the stove is used. These small cleans after every meal will reduce the need for a regular, deeper cleaning session.
If you are looking for more easy ways to keep on top of cleaning, read our Best Advice for Keeping your Kitchen Clean blog.
Professional Deep Oven Cleaning
If you are dreading cleaning your stove, or are unsure how to clean an electric oven, it's time to call the oven cleaning specialists. Ovenclean local specialists are fully equipped to put the sparkle back into your Stove, Hob, Oven, Range, Aga, Microwave and even BBQ! Our stove cleaning specialists aim to cause minimal disturbance to your home, so all removable parts are soaked in no-added caustic cleaning products outside, ensuring your home remains safe and mess-free.
Contact Ovenclean today for more information on 0800 840 7127 or get your free quote here.