What is the best stove top cleaner?
Whether you cook every day or just once a week, the kitchen stove can quickly become a sticky grimey mess. Food gets dropped, splattered, burnt-on and boils over, so it's no wonder the stove is something which needs regular cleaning. Just cooking one meal can leave you with a dirty stove, and ignoring the mess could lead to an even bigger problem later in the week.
Your kitchen stove is designed to look shiny and sleek in the kitchen, not only for aesthetics but also for safety and functionality. A dirty stove top prevents pans from sitting flush to the surface, making it much less effective when heating.
The bottom line is, the quicker you clean spillages from the stove-top, the easier it will be to maintain and deep clean. To keep the stove cleaner for longer, it's a good idea to wipe over the stove every time you cook, it will only take a couple of minutes but it will make life a lot easier. Then you can give the stove a deep clean once a week.
Here we take a look at some of the options for keeping on top of a clean stove top:
Hob Brite
Hob Brite is one of the most popular hob cleaners on the UK market, with its well-known orange branding. Hob Brite stove cleaner is a non-scratch cream cleaning product, designed to eliminate the toughest of stains and burnt-on food grime.
Read our blog here on how to use Hob Brite.
Pros of Hob Brite Stove Cleaner:
Hob Brite is an antibacterial cleaner that kills 99% of bacteria protection.
Can be used on electric, ceramic, halogen and induction hobs.
Cons of Hob Brite Stove Cleaner:
Hob Brite may be the UK's number hob cleaner but it still contains the hazardous chemical Citric Acid Monohydrate.
Wpro Hob Cream Cleaner
Recommended by Hotpoint, the Wpro professional stove cream cleaner effectively cleans induction, glass-ceramic and glass for a sparkling finish. The Wpro formula also adds a protective layer to the stove, this extra layer helps to preserve the glossy finish without scratching or marking the stove.
Pros of Wpro Stove Cleaner:
Recommended by Hotpoint and Whirlpool.
The Wpro stove cleaner has a fresh lemon scent.
The hob cleaner can be used on all stainless-steel surfaces such as hobs, cooker hoods, ovens and fridges.
Cons of Wpro Stove Cleaner:
This stove cleaning product can only be purchased online.
Astonish Hob Cream Cleaner
This cream hob cleaner by Astonish removes burnt-on spills and dried on food from the stove, leaving a protective coating to help prevent damage from future spillages. The Astonish hob cream cleaner polishes the stove to sparkling shine and can be used on ceramic, glass induction, halogen hobs and even microwaves!
To use the Astonish Hob Cream Cleaner, simply apply the product to the hob with a soft damp cloth. Wipe the stove gently in a circular motion, and rinse the cloth with warm water when required. Repeat as needed.
Pros of Astonish Hob Cleaner:
The Astonish hob cleaner can be used to clean hobs, microwaves and PVC window sills.
A small amount of the Astonish stove cleaner goes a long way.
Cons of Astonish Hob Cleaner:
Although this product contains non-ionic surfactants, it still contains a mix a preservatives and chemicals.
 The Pink Stuff for Hobs and Stoves
The pink stuff is a tough cleaning paste that is gentle on surfaces but tough on stove stains and is recommended by Mrs Hinch! The Pink Stuff is a multipurpose cleaning product that is perfect for freshening up the surface of your oven's stove, removing burnt on stains and making the burner caps sparkle again.
Simply apply The Pink Stuff paste directly onto the stove and use a soft cloth to spread the product evenly across the stove. Leave the Pink Stuff on the hob for 10 minutes, then gently wipe away. If you are dealing with tougher burnt-on stains, leave the paste on the stove for longer, until the stains begin to lift.
The Pink Stuff is also ideal for cleaning saucepans, barbecues, ceramic tiles, glass, rust, sinks, uPVC, garden furniture, paintwork, boats, copper and much more.
Pros of The Pink Stuff for Hobs:
The Pink Stuff is available to buy from most supermarkets and homeware stores for as little as £1!
The Pink Stuff paste is a multi-use product that can be used on many household appliances, not just stoves.
Cons of The Pink Stuff for Hobs:
Online consumers thought the packaging was flimsy and split when it was delivered through the post.
Vinegar and Baking Soda – DIY Cleaner
The combination of baking soda (bicarbonate of soda) and vinegar makes a fantastic natural stove cleaner. Simply sprinkle the baking soda onto the hob and spray the vinegar on top, then leave the product to soak for around 30 minutes. Then scrub the stove and rinse, ensure you use a sponge that is recommended for your type of stove, as a wired brush or sponge should never be used on a glass stove.
Pros of using Vinegar and Baking Soda:
Vinegar and baking soda are cheaper than most branded stove cleaners.
You may already have these items in your cupboard at home.
By using vinegar and baking soda, you know there are no nasty chemicals and fumes polluting your kitchen. Perfect for home with pets and children.
Cons of using Vinegar and Baking Soda: 
Vinegar can leave a lingering strong smell in your kitchen.
Safety note: Always allow the stove to cool before you begin cleaning and thoroughly follow the product's instructions.
For an easy life, wipe down your stove every time you use it. Then complete a much deeper clean on the stove after a big cooking session or when you have more time. Burnt on grime is much tougher than it looks, so deal with it sooner rather than later.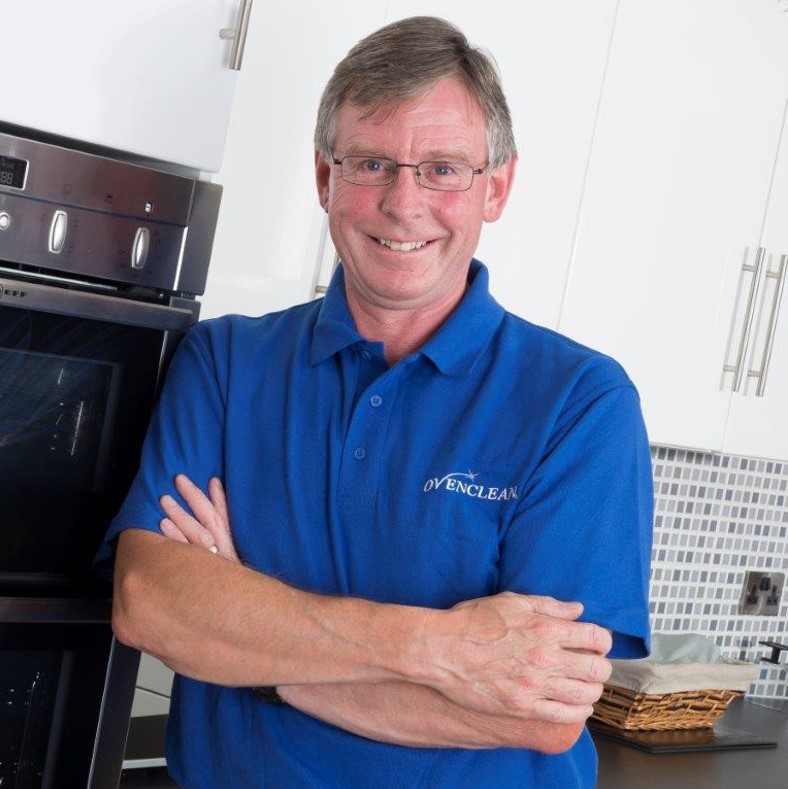 If you don't fancy dealing with the grime on your stove, look no further. Our oven cleaning specialists can make your Stove, Hob, Oven, Microwave, BBQ and Extractor hood look as good as new in a matter of hours.
Even better, our stove cleaning specialists use a unique range of no added caustic-soda cleaning products to clean your stove.
Get a free quote here or call 0800 840 7127 to make an appointment today.