Best Oven Cleaner UK 2023
If you are after the best oven cleaning products of 2023, look now further. If your oven is in desperate need of a clean, then you may have considered deep cleaning the oven yourself with high street cleaning products. Cleaning the oven is a big job, so it's important you have the right cleaning product for you and your oven. We have reviewed some of the most popular 'DIY' oven cleaning products of 2023, highlighting the pros and cons so you can achieve a sparkling clean oven every time. What is the best oven cleaner you may ask? Check out our favourite below.
This blog post is not intended to give oven cleaning instructions. Always follow product safety and oven manufacturer instructions.
1.  Mr Muscle Oven Cleaner 
Overall Rating: 9/10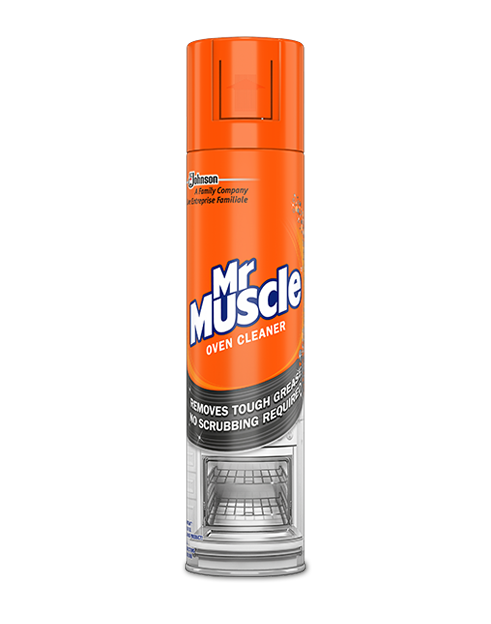 This was our top DIY oven cleaning product last year and it tops our list again this year, because, with Mr. Muscle, there is no scrubbing required. Mr Muscle is a very established cleaning brand and always brings the 'cleaning power' to its products.
Just spray your oven with the oven cleaner, close it and leave it for a couple of hours. When you return, wipe the oven grime away with a cloth or paper towel. The Mr Muscle Oven Cleaner is self-scouring, which means there is no need for scrubbing, so your oven will be sparkling clean in no time.
Pros:
When used correctly, Mr Muscle Oven Cleaner will clean away dirt from the oven.
The foam cleaner is formulated with unique self-scouring, meaning no scrubbing or scraping is required – perfect!
The product does not need to be left to soak overnight, saving time.
Mr Muscle has a good reputation in the cleaning industry.
When the safety advice is followed correctly, the product proposes no safety risk.
Cons:
The product contains a mixture of serious chemicals, so it should only be used in well-ventilated areas, with gloves and a mask, ensuring you follow the instructions carefully.
If used incorrectly, this product can be very dangerous, causing severe skin burns and eye damage.
The strong fumes will mean you should keep children and pets at a safe distance while in use.
2. The Pink Stuff
Overall Rating: 9/10
The Pink Stuff is a tough cleaning paste that can be used to deep clean an oven. The multi-purpose household cleaner is mildly abrasive, removing oven grime without the hard work.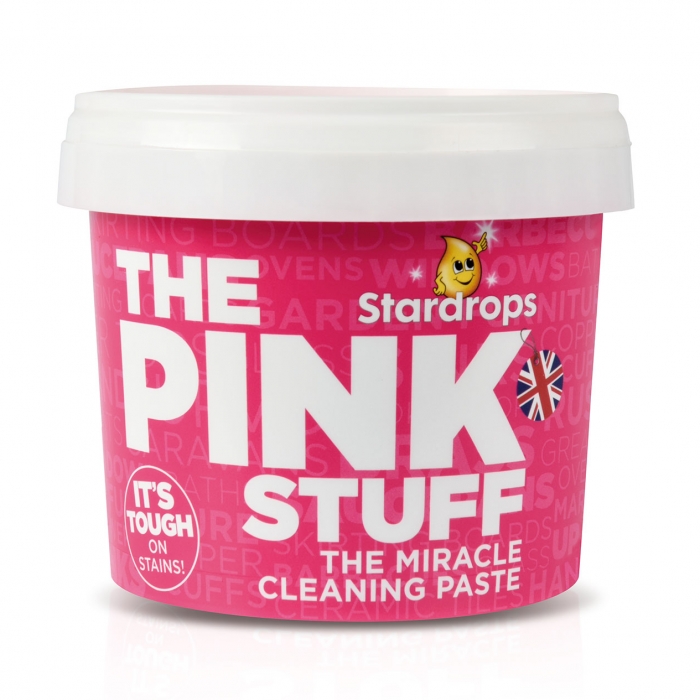 The Pink Stuff Cleaning Paste is very easy to apply directly onto the oven and performs brilliantly on removing grime and dirt from the oven surface. The paste must be applied with some form of cloth, a Minky cloth or Scrub Daddy works well. The Pink Stuff cleaning paste can also be used to clean the oven glass door and the hob. The paste is great at removing burnt-on food, discoloration, rust and staining.
Pros:
Effective in removing grime and dirt from the cooker.
A multi-purpose cleaner that can also be used on tiles, sinks, BBQs, rust, skirting boards and shoes to name a few.
The paste is made from 99% natural ingredients, is environmentally non-toxic and non-hazardous.
Cons:
The paste can leave a thin film on surfaces and can be messy to use in comparison to spray products.
Sold online for around £4.50, however available to buy in discount stores, such as Poundstretcher and Home Bargains for £1.
Not suitable for plastic, acrylic or polished stainless steel.
3. Astonish Oven and Cookware
Overall Rating: 8/10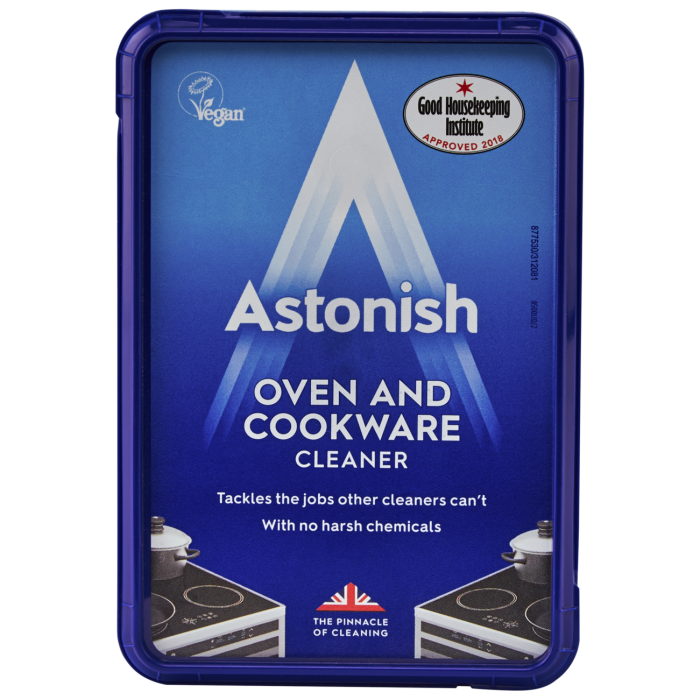 The Astonish Oven and Cookware cleaning product comes in a convenient tub and is very easy to use and apply to the oven's surface. The cleaning paste is very effective in removing burnt-on food grime from the interior of the oven. This product has also passed the Consumer Quality Assessment test by Good Housekeeping.
Apply the astonish paste with a damp nylon scouring pad and rub well, rinse clean and repeat. Where there are deep grease patches, use a dry nylon pad to apply the paste.
Pros:
The product can be used on enamel, glass, oven racks, glazed cookware, ceramics, steel pan interiors and Pyrex.
Effectively removes burnt-on food grime from the interior of the oven.
There is no overwhelming chemical smell to the product.
No harsh chemicals, so there is no need to wear gloves.
It can also be used in other areas of the house on baths, tiles, sinks, taps and patio furniture.
Approved by the Good Housekeeping Institute.
Cons:
The product is abrasive, so it cannot be used on plastics, non-stick coatings, polished metal or brushed stainless steel.
Not as effective on grease stains as some other products.
 4. Elbow Grease
Overall Rating: 7/10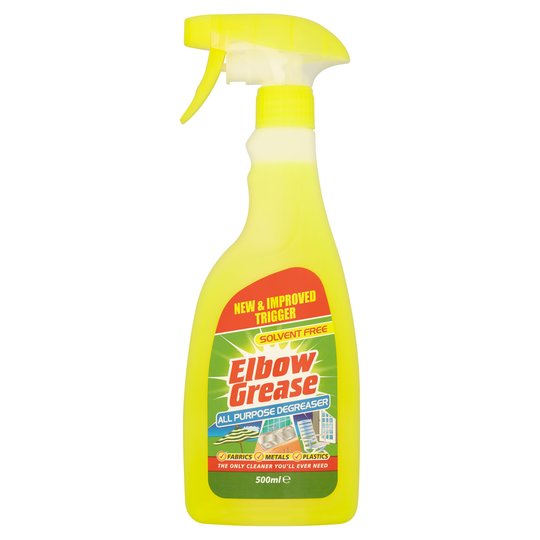 Elbow Grease is sold as an 'all-purpose degreaser', however it doubles up as a very effective oven cleaning product. This spray product is tough enough to remove oven grease but gentle enough to be used on fabrics.
Pros:
This product is very affordable at just £1 for a 500ml bottle.
The product can also be used to clean hobs, BBQs, extractor fans and sinks.
Very effective in removing grease from the interior of the oven and hob.
Elbow Grease is solvent-free and can be used on fabric, metals and plastics as well as the interior of the oven.
Cons:
It can cause the number dials on oven knobs to come off very easily, so avoid using the product on the numbers.
Less effective at removing burnt-on food grime and particles.
 5. Vinegar and Baking Soda
Overall Rating: 7/10
If you are looking for a natural method to clean your oven, opt for baking soda and vinegar. We recommended this method last year and we are recommending it again this year because of its non-toxic qualities.
Simply cover the oven with baking soda and spray it with vinegar, then leave it to soak overnight. During the night the mix will work to lift the grime from the oven and glass. In the morning, just wipe the paste away with a damp cloth. You may need to go over deep grime areas with vinegar and a cloth again, as we found this method can require repetition.
Pros:
There are no chemicals or fumes released, so it is safe for use around children and pets.
Safe for the environment.
Cost-effective as these products are cheap to buy and can be used to clean other appliances in the home.
Cons:
Using natural products can be more time-consuming and labour intensive than other high-street products.
The baking soda paste can become very messy and hard to remove once applied to the oven.
Vinegar has a very strong smell that may linger after use.
Professional Oven Cleaning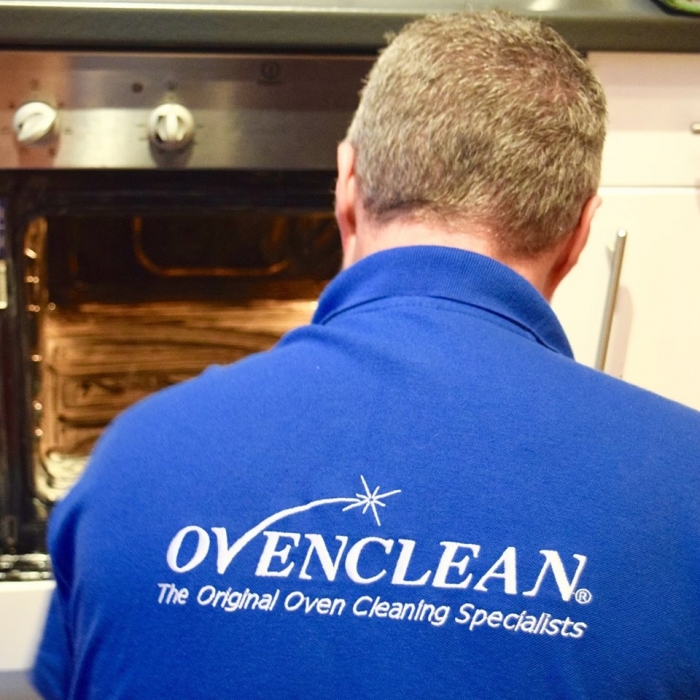 We hope you are one step closer to choosing the right oven cleaning product for you.
However, if you decide your oven clean is too much of a challenge, then why not call Ovenclean? Your local professional oven cleaning specialist can put the sparkle back in your oven in a matter of hours, saving you time and hassle.
Ovenclean specialists use our unique range of products that do not produce harmful fumes, so you can use your oven as soon as we are finished. No mess, no fuss oven cleaning.
If you would like to book a professional oven clean, call us on 0800 840 7127 or complete our online form for your free quote here.