Top Tips for Cleaning Kitchen Tiles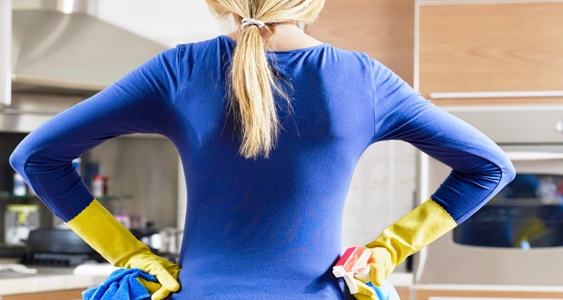 For most of us, the kitchen is often the heart of the home. From cooking and prepping to generally hanging out, dirt can quickly build up on your kitchen wall and floor tiles without realising. However, with the right technique and products, you can keep your kitchen tiles looking clean and glossy.
Regular Maintenance Tips
Sweep and vacuum the kitchen floor tiles on a daily basis to make deep cleaning easier
Clean up spillages on kitchen tiles as soon as possible to avoid staining
Regularly wipe over tiles with a disinfectant and clean cloth to avoid the build-up of grease and germs
How to Clean Grout
Despite the large array cleaning of products on the market, the common household toothbrush is recommended as the best tool of choice for cleaning grout (just make sure the toothbrush is an old one!). A top tip for a cost-effective grout cleaning solution is baking soda and vinegar.
Start by mixing the baking soda with the vinegar to form a paste, then work this paste between the tiles with the toothbrush.
Leave the paste to dry for 30 minutes before rinsing it off with warm water and a clean cloth.
For more stubborn stains, purchase a grout cleaner or grout stain remover that is safe to use on your tile type.
How to Clean Kitchen Wall Tiles
With your kitchen grouting now sparkling clean, its time to turn your attention to cleaning the wall tiles.
Before you start, consider the type of tile you have, for plain ceramic tiles a standard scoring pad should be okay. Avoid using a scouring pad on printed or patterned tiles, instead use a microfiber cloth or soft sponge.
Use warm water, a clean cloth, and a good quality tile cleaner to scrub the dirt, grease and stains from the tile.
Wipe the tiles over with a clean cloth and warm water, repeat the process if persistent stains remain.
Dry the kitchen tiles with a clean tea towel for a glossy professional finish.
Tip! Never use vinegar or harsh cloths on marble tiles!
How to clean Kitchen Floor Tiles
Now your kitchen wall tiles are looking brand new, its time to clean your floor tiles!
Start by vacuuming the area to remove any excess dust and dirt, this will ensure you don't spread the dirt around the kitchen.
Repeat the grouting process as mentioned earlier, using baking soda, vinegar and an old toothbrush.
Finally, mop the floor tiles with warm water and a good quality floor cleaner.
Leave the floor to dry, sit back with a cup of tea and a slice of cake to enjoy your sparkling clean kitchen.
Now your kitchen tiles are gleaming, why not consider cleaning other areas of your kitchen such as your oven, hob, microwave or BBQ.  Specialising in deep cleans, Ovenclean specialists are fully equipped to put the sparkle back into your kitchen at competitive prices. Our customers rate us 5* and are delighted by the results we can achieve, so why not treat yourself to a professional oven clean.
Get a free Ovenclean quote or contact us on 0800 840 7127 for more information on the full range of services available.