Recipe of The Month: Chocolate & Raspberry Marble Cake
The Great British Bake Off returns to our screens tonight, and what better way to kick off the series than with cake week?!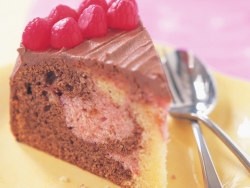 In celebration of this week's challenge, we are dedicating our recipe of the month to a classic cake recipe with a twist – Chocolate and raspberry marble cake!
For the cake:
Ingredients:
20cm Cake tin
225g softened butter
225g caster sugar
4 eggs
220g self-raising flour
3 tbsp full-fat milk
2 tbsp cocoa powder
½ tablespoon vanilla extract
25g milk chocolate, chopped
25g white chocolate, chopped
75g frozen raspberries
Method:
Preheat oven to 180°C and lightly butter your cake tin, then set this aside.
Beat the butter, sugar, eggs and flour together in a large bowl with an electric whisk or in a food processor for about 2 minutes, until it is well blended with no lumps. Then add in the vanilla extract and stir.
Split the mixture into two bowls and then set aside.
Mix the cocoa powder and milk chocolate pieces into one of the cake bowls, and then fold the white chocolate pieces and frozen raspberries into the mixture in the other bowl.
Spoon random scoops of the mixture from each bowl into the cake tin and then take a skewer and swirl it around – this creates the marbled effect.
Bake the cake for 45-55 mins until a skewer inserted into the centre comes out clean, then leave to cool for 10 minutes. Whilst you're waiting for the cake to cool, you get started on the raspberry frosting. Alternatively, you can just leave to cool and eat as it is!
For the raspberry frosting (optional):
Ingredients:
170g butter, softened to room temperature
420g sugar
3 Tablespoons cream
½ teaspoons vanilla extract
40 (approximately) raspberries
Method:
Put half of the 40 raspberries into a food processor and then strain to force through a strainer to remove seeds until they are the consistency of puree. Set this aside.
Whip softened butter on for about 3 minutes until it's completely smooth.
On low speed, gradually add the sugar, cream, vanilla extract, and salt one by one with the mixer running. Increase to high speed and beat for 1 minute.
Add the raspberry preserves to the mix and then beat until thick and creamy, for about 2 minutes.
Spread the frosting onto the marble cake and garnish with the remaining 20 raspberries.
If you're going to be baking along with Great British Bake Off and need your cleaned, call Ovenclean today on 0800 840 7127 or request your free estimate online.