The Best UK Oven Cleaners 2019
If you need an oven clean, you may have looked into the option of doing it yourself with off-the-shelf oven cleaning products.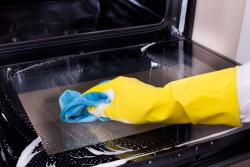 But you need to know what the best oven cleaner is if you're going to attempt it yourself, so we've put together some oven cleaner reviews for 2019 and have listed the pros and the cons, which should help you make a decision about your purchase. Best oven cleaner uk and the best oven cleaner products? We've got you covered, find out more below.
This blog post is not intended to give oven cleaning instructions. Always follow product safety and oven manufacturer instructions.
7. Vinegar and Baking Soda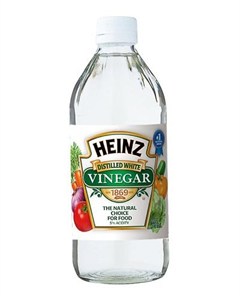 There are a few ways of cleaning the oven with ingredients that can be found in an average person's kitchen, one of which is vinegar and baking soda! All you need to do here is simply mix together half a cup of baking soda with a few tablespoons of water to form a paste which will lift grime from your oven. After leaving the paste on your oven overnight, take a damp dish cloth and wipe the oven over, then spray some vinegar over the parts where you still see some residue. Finally, give it a final wipe over, adding more vinegar and water until it's clean.
Our overall rating: 7/10
Pros
There's no risk from chemicals or fumes, and it's safe for the environment
Baking soda and vinegar are common ingredients in the home
It's inexpensive
Cons
Whilst the baking soda route does work to an extent, it may cause stains of its own
It's more time-consuming than other methods
You may need to repeat the process several times to get it clean, which is quite laborious
Vinegar and baking soda is not just great for cleaning ovens, but it can also be used for other DIY purposes in the kitchen. Take a look at our blog What natural cleaning products are best and how to use them? 
6. Astonish Oven & Cookware Cleaner Cleaning Paste, 500g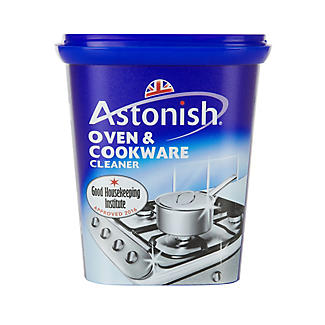 Astonish is a pot of cleaning paste that removes grease and difficult stains from a large variety of surfaces in the home, including cleaning your oven. You simply need to apply a small quantity of this cleaning product to the surface and rub with a damp sponge or cloth, and then rise with clean water and a clean cloth.
Our overall rating: 7.5/10
Pros:
For use on all ovens, cooker tops, pans, cookware, sink & tiles
Large tub (500g) and only a small amount required, therefore its good value for money
It contains no harmful ingredients or chemicals, meaning no need to wear protective clothing
Biodegradable compounds for improved environmental safety
Cons:
Slightly more expensive than other oven cleaners
Not as effective on tougher stains
5. HG oven, grill & barbecue cleaner 500 ML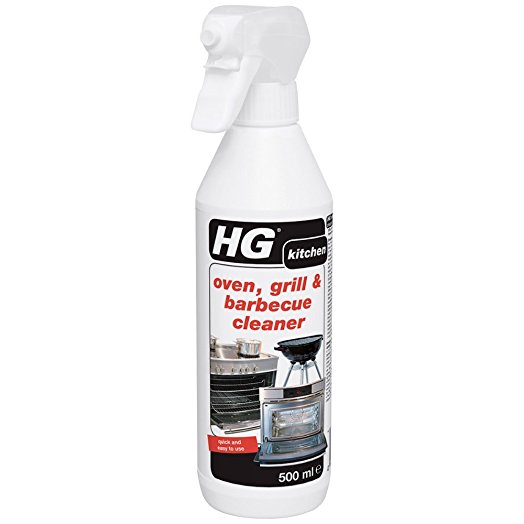 The hg oven cleaner is at number 5, we have chosen HG oven, grill & barbecue cleaner, which works slightly differently than most other oven cleaning products. For the best results, the surface needs to be warm and then the product only needs to be on the surface for 3 to 5 minutes before being wiped off with a damp sponge.
Our overall rating: 7.5/10
Pros:
Quick and easy oven cleaner with minimal effort
Versatility – it's also suitable for the grill and BBQ cleaning
Cons:
Not as effective on tougher stains, may need repeat applications which could become tedious
Slightly more expensive than other products
Very dangerous if comes into contact with skin – must wear protective gloves, clothes and eye wear
4. Oven Mate Cleaning Gel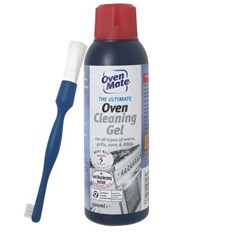 At number 4, Oven Mate is a gel that can be painted onto oven interiors. Gloves and a brush are included in this oven cleaning product and it can be left for 3 minutes to 3 hours, depending on the level of grime. Similarly, to some of the best oven cleaners, there is no scrubbing required, simply just leave it on to work its magic!
Our overall rating: 8/10
Pros
No scrubbing required
The acrid smell is greatly reduced with this product, although we wouldn't say there is none at all
Biodegradable, unlike most other products
Brush and gloves are included
Cons
Contains such dangerous chemicals so caution is required.
Like all chemical oven cleaners, they are not suitable for use on enamel, Agas or stainless steel
This must be careful not to use on areas where Cillit Bang and similar products have been used, due to chemical reactions
3. Oven Pride Liquid and Bag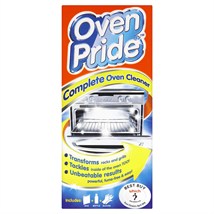 Oven Pride has introduced a fantastic unique bag system and all-in-one solution which has scored it third place on our best oven cleaner reviews blog! Wearing gloves throughout, you fill the bag with cleaning solution and soak grill racks overnight. At the same time, you coat the oven interior with liquid and leave. Afterwards, everything needs to be rinsed with warm, soapy water, with bags and gloves disposed of.
Our overall rating: 8/10
Pros
Not quite as messy as Mr Muscle
Can be used on the grill racks and simply rinsed off
Requires minimal effort compared to some oven cleaners
Cons
Omits fumes and just as hazardous as many other oven cleaning products.
Requires a long time to work, meaning that you won't be able to use your oven for a long period of time.
The bag needs to be disposed of carefully otherwise the plastic could have a negative impact on the environment.
2. Oven Brite oven cleaner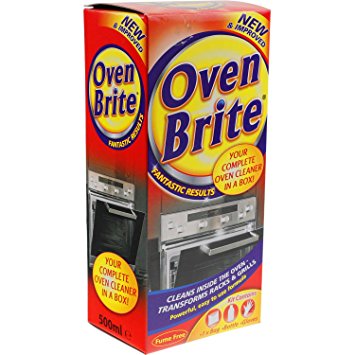 At number 2, we also think the Oven Brite cleaner is one of the best oven cleaners as it is extremely effective for a good price. It even comes with a bag and bottle for disposal and gloves, and at 500ml (200ml more than Muscle) you'll have plenty of product, so it really is great value for money!
Our overall rating: 8.5/10
Pros:
500ml is plenty of solution, therefore it's great value!
Gloves, a bag and a bottle come in the box
The solution is carefully concocted to be fume-free, so it's not as hazardous as some other oven cleaning products
Cons:
Although it's fume free, there is quite a long list of safety warnings so you need to ensure you read these before using the oven cleaner.
Recommended to leave overnight which means the oven is out of action
1. Mr Muscle Oven Cleaner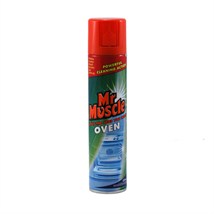 Our top best oven cleaner is Mr Muscle! This is one of the best known and most popular oven cleaning products – after all, he "loves the jobs you hate"! There are a range of Mr Muscle cleaning products, but we love this one in particular as there is no scrubbing required, making your job far less laborious! All you need to do is spray it on your oven, where it will emulsify baked on mess, and wipe it off a couple of hours later – simple! You can also take a look at one of our previous blogs for more information on using this product: Our advice on Mr Muscle oven cleaner
Our overall rating: 9/10
Pros
Used regularly, Mr Muscle, and other foam cleaners will lift dirt away from the surface of your cooker
Due to a unique self-scouring formula, no scrubbing or scraping is required, you can literally just wipe the solution away
Fast acting, don't need to leave on overnight
Used correctly with the proper precautions, there is no safety risk
Mr Muscle is a reputable brand
Cons
There are tons of other oven cleaning products we love, too many to list. These ones include the lakeland oven cleaner, oven mate cleaner, even superstore brand oven cleaners work brilliantly. These include oven pride sainsburys, oven pride b&m and tesco oven pride. Out of all the superstore brands one of our favourites is the sainsburys oven cleaner. Check out all your local stores for new oven cleaners.
Professional oven cleaning
We hope these oven cleaner reviews have helped you make a decision on how you would like to clean your own!
However, oven cleaning has been voted the most hated household chore, so if you would rather hire a professional oven cleaning company than attempt this laborious task yourself, then why not call Ovenclean? Click here to see some Ovenclean before and after photos – our specialists can make your oven sparkle in just a few hours.
We are the UK's original oven cleaning service with over 20 years' experience. We use an innovative, non-added caustic system which is exclusive to Ovenclean, achieving spectacular results with no harmful fumes and no mess!
If you would like to leave the hard work to us this time, call us on 0800 840 7127 or complete our online form for your free quote.