What are the Best Kitchen Cleaning Supplies to Keep in your Cupboard
Keeping your kitchen clean should be a daily habit. Kitchens are often the heart of the home, so experience a lot of traffic. Your kitchen may have sticky work surfaces, smudged stainless steel or a messy kitchen floor.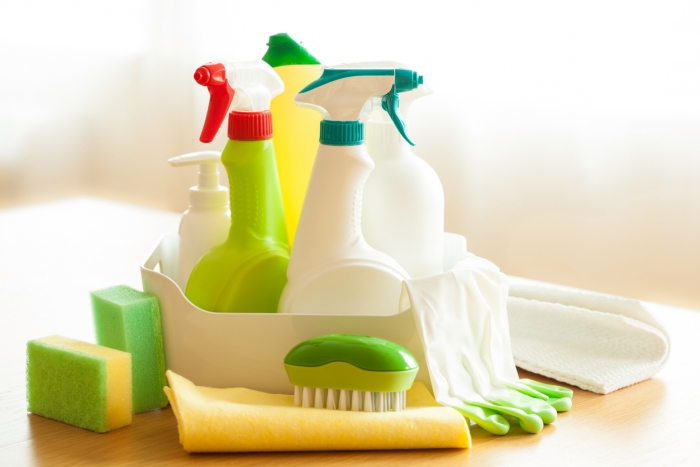 So, to keep your kitchen in tip-top shape, we have put together a list of the best kitchen cleaning supplies. A perfectly organised cleaning cupboard will save you time and help you get great results every time.
Essential Kitchen Cleaning Supplies
All-purpose Cleaner
There are a lot of different surfaces in your kitchen from the worktops to the cupboards and the floors. An all-purpose cleaner does what it says on the tin, offering great results across multiple surfaces. Making it an invaluable product to have in your kitchen cleaning cupboard. Better still, opt for a spray all-purpose cleaner for ease and speed when cleaning.
Limescale Remover
Limescale can quickly build up in the kitchen, especially in areas with hard water. So, it's a good idea to include a limescale removing product in your cupboard. You can also use lemon and white vinegar to remove limescale as a natural alternative.
Dishwashing Liquid
Dishwashing liquid is a must-have item in the kitchen cleaning cupboard. Dish soap is strong enough to cut through grease, but is also gentle on the skin. While it is great for cleaning the dishes, it is also a fantastic degreaser in other areas of the kitchen.
White Vinegar
White vinegar is an essential natural product for every cleaning cupboard, not just the kitchen. Vinegar is an incredible versatile kitchen cleaning product, as a natural cleaner, it easily cuts through mould, bacteria and grime. Plus, its safe to use on a range of kitchen surfaces.
Ways to Clean with White Vinegar in the Kitchen:
It can be used as a 'no scrub' microwave cleaner
Clean the fridge inside and out
Unblock drains
Remove hard water stains around the sink
To clean stained tupperware
To clean sticky stains from the worksurfaces (apart from granite and marble)
Baking Soda
Similar to white vinegar, baking soda is an essential natural cleaning product to keep in your cupboard. Not only is it mildly abrasive, it also works as a deodoriser, making it the perfect cleaning product for grease and grime in the kitchen.
Uses for Baking Soda in the Kitchen
Bin deodoriser
Stainless steel sink cleaner
Hob cleaner
Floor cleaner
Dishwasher cleaner
Unblock kitchen sink
Remove tea stains from cups and mugs
Freshen cleaning sponges
Microwave cleaner
Microfibre Cloths
Microfibre cloths work just as well as paper towels to wipe up kitchen spills. However, microfibre cloths are reusable so you are doing your bit to help the planet too. Microfibre cloths are also designed to collect dust and debris, so can be used with or without water. When the cloths become dirty they can be simply washed in the washing machine.
Soft Sponges
You can't go wrong with adding a couple of sponges to your kitchen cleaning kit. There are a variety of soft sponges on the market and they make the perfect tool for removing grime from kitchen appliances and surfaces.
Cleaning Gloves
The kitchen is one of the messiest rooms in the house to clean. From food grime in the oven to mud on the floors, protect your hands from dirt and chemicals with a pair of gloves. With your hands covered, you can scrub away with no need to worry.
Cleaning Toothbrush
Toothbrushes are not only great for making your teeth gleam, but also your kitchen. Due to their size, a toothbrush makes the perfect tool to get in all those hard to reach areas.
A toothbrush can be used to clean the following:
Hobs and stoves
Tile grout
Fridge
Sink and drain
Toaster (make sure it is turned off and unplugged)
Next time you are throwing out an old toothbrush, why not add it to your kitchen cleaning kit instead?
The Number of Professional Oven Cleaner
Many domestic oven cleaning products contain a toxic chemical called sodium hydroxide. This is a very common oven cleaning chemical and is more commonly known as caustic soda. With this in mind, avoid adding a domestic oven cleaning product to your cleaning kit, instead opt for a natural cleaning method or call the oven cleaning professionals.
Ovenclean specialists use a non-added caustic cleaning solution, meaning your kitchen is safe, hygienic and free from harmful fumes. Contact your local specialist today for a free oven cleaning quote.
Organise Your Kitchen Cleaning Cupboard
Keeping your supplies organised will make cleaning the kitchen quicker and easier. No more pulling out every single product and cloth to find the one you want. With an organised and tidy cleaning cupboard, you will always know where each product is.
It's always good to have a designated place for all your cleaning supplies. The most obvious place is under the sink; however, you may have a more convenient larger cupboard.
Remove all the products from the cupboard and throw away any cleaners that you haven't used for 6 months. Likewise, any cleaning cloths that look past their best, throw them out as they may be concealing germs.
Cleaning is all in the preparation. So, a storage caddy will keep all your cleaning products organised and when it's time to clean, you can simply pick the caddy up and you are off.
Depending on the location of your cleaning cupboard, you may be able to extend the space with an under-sink organiser. You could also add hooks to the back of the cupboard door to hang cloths and gloves on.
So now you have your list of essential kitchen cleaning items, its time to assemble your kit and get started!
Professional Oven Cleaning
If you are looking or other ways to spruce up kitchen, Ovenclean offer a range of kitchen cleaning services, including Oven Cleaning, Microwave Cleaning, Hob Cleaning and Extractor Fan Cleaning. Get in touch with your local specialist today for a free cleaning quote.