4 Zero Waste Kitchen Ideas for Eco-Friendly Households
Ovenclean / Kelly Edwards
From last-minute breakfasts before work to late-night drinks with friends, the kitchen is seen by many people as the heart of the home. However, it is also the area most susceptible to waste –whether through plastic packaging, uneaten food or the number of energy-sucking appliances it typically houses.
As such, if you're looking to maintain more of an eco-friendly household – which, who isn't in today's day and age – we're here to help.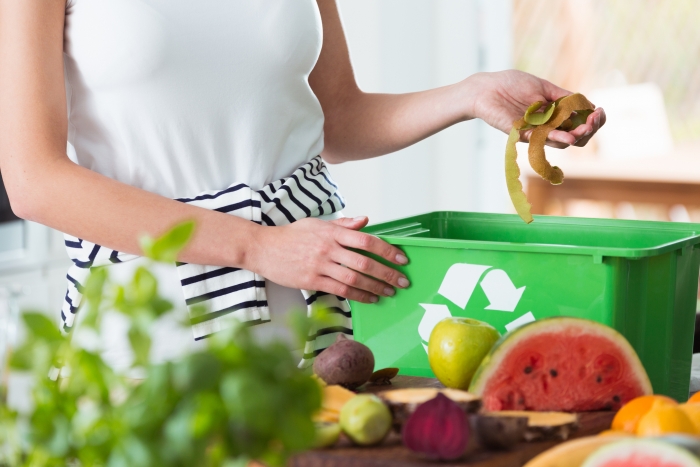 Join us as we guide you through some of the top tips and ideas to not only prevent waste in the kitchen but help decrease your home's overall carbon footprint at the same time.
Recycle Plastic Responsibly
We should all know by now just how damaging plastic can be to our world.
While it may be incredibly useful, durable, light and cheap, plastic is one of the biggest contributing factors not just to climate change, but the health and wellbeing of many animals as well.
After all, researchers estimate that around 12 million tonnes of plastic are dumped into the ocean each year – the equivalent weight of a million London buses.
This simply can't be allowed to continue so, where possible, always make sure to recycle any plastic in the appropriate way. And, if you can, try to only ever purchase cleaning products made from sustainable materials.
Reuse Rather Than Recycle
While it's obviously important to recycle as responsibly as you can, reusing and upcycling products where possible could actually make a much bigger difference.
After all, recent statistics show that only 9% of the plastic that's recycled can actually be put to any use. So, if you are able to reuse any products around the kitchen instead of simply chucking them away, this could go a long way towards reducing your total waste output.
Jam jars, for instance, can easily be reused for a huge number of functions – and not just in the kitchen. Whether it be as a food storage solution, a pot for nails and screws, or a jewellery container, try and get creative with how you could reuse your leftover packaging.
Moreover, if you're thinking about designing a sustainable kitchen at some point in the future, consider using recycled plastic materials from salvage yards. That way, you'll not only be able to save yourself some money but you'll also be able to stick to your values at the same time.
Reuse Your Leftovers
Statistics tell us that approximately 16.5% of all waste in landfills is just food. So, try to avoid throwing any leftovers away where you can.
Instead, try to get creative and think about how you could reuse your food scraps.
Leftover vegetable peelings, for example, can easily be turned into a great tasting vegetable stock. Alternatively, by putting leftover orange or lemon peels in vinegar, this can quickly create a lovely smelling fragrance for your home.
Leftover food can also be particularly useful when used as a form of compost, allowing you to grow your own food more quickly while reducing your carbon footprint at the same time.
Buy in Bulk
Are you a keen cook or baker? If so, the chances are you'll use a ton of pantry items – from sugars and flours to spices and nuts.
Throw tea and coffee into the mix as well and that's a lot of individual items to store, each with their own plastic-wrapped packaging that will be in the bin as soon as they've been opened.
So, rather than buying these products in this way, why not consider purchasing them in bulk instead? That way, you'll not only be able to cut back on plastic but you'll ensure your kitchen pantry is always well-organised and stocked up with what you need.
Plus, by shopping at an organic food shop, these will often let you bring your own containers and reusable bags, allowing you to get what you need without having to fill your kitchen with non-biodegradable packaging.
Final Thoughts
If you're looking to create an eco-friendly household, the kitchen is one of – if not the – main contributing factors to your home's carbon footprint. So, it's important to really think about what you can do to reduce its waste output.
The key thing to consider is what you buy and use in the kitchen.
Whether it be a new appliance or a standard grocery shop, take the time to assess the environmental impact of the choices you make. That way, you'll be able to seamlessly create an eco-friendly household centred solely around your zero-waste kitchen.