Baking on a Budget: Brilliant Brownies
When you're baking with chocolate, avoid buying pricey branded bars in favour of supermarkets' budget range.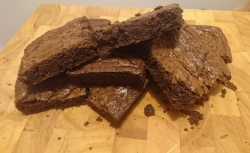 What you're looking for is a good cocoa content, which you can find in local supermarkets at a very cheap price. For example, Sainsbury's basic dark chocolate has a cocoa content of 52% and is just 35p per bar – an absolute bargain! The best thing is that nobody will ever be able to tell the difference!
Ingredients:
200g Sainsbury's Basics dark chocolate, roughly broken
170g unsalted butter, cubed
175g caster sugar
3 free-range eggs
60g cocoa powder
80g plain flour, sifted
Method:
Pre-heat your oven to 170C. Boil the kettle and half fill a pot with the boiling water.  Put the chocolate and butter into a bowl (one that sits snugly on the pot) and stir gently until melted.  Allow to cool slightly.
Place the sugar and eggs in a separate bowl and whisk until fluffy and mousse-like.
Sift the cocoa powder into the flour
Gently fold the sugar mix into the melted chocolate
Next, fold in the flour and cocoa mix.  Try to do this with as few movements as possible.
Pour the mixture into a lined 20cm brownie tin and bake for 15-18 minutes.
Remove from tin and allow to cool
Phil is a food blogger, in Edinburgh, who reviews independent restaurant, recipes and food features. Read more of his reviews here.