Chocolate Overload: Scotch Pancakes Recipe
Scotch or American pancakes are much thicker than the popular crepe style pancakes and are traditionally eaten with butter and jam spread on top, or if you're from Canada, we believe they're particularly partial to serving them with maple syrup and crispy bacon as featured in last year's Ovenclean pancake recipe!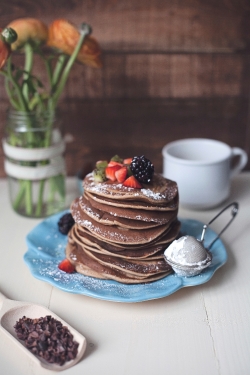 But, with Lent just around the corner, and chocolate regularly topping the list of things given up for the 40 day fasting period, we thought what better way to kick it off, than with a chocolate overload pancake recipe!
Ingredients:
250g plain flour
30g cocoa powder
2 x eggs
2 tsp baking powder
280ml milk
2 tbsp caster sugar
2 tbsp butter, plus a little extra for frying
Pinch of salt
Jar of Nutella, or any other chocolate-based spread!
Mixed berries – optional
Method:
1. Melt the butter and put to one side to cool.
2. Put all the dry ingredients into a bowl and make a well in the centre.
3. In another bowl, beat together the milk, eggs and butter, then beat into the dry ingredients to achieve a nice thick batter.
4. Heat a frying pan on a medium heat and add a little butter. Once melted and the pan is hot, spoon on the mixture until you have pancakes about 10cm in diameter. If you can fit more than one in the pan, keep going, but try to make sure they don't touch…
5. Small bubbles will start to appear on the surface of the pancakes and this is when they are ready to flip. Turn them over and leave for a minute or so until the other side is slightly browned too.
6. These are best eaten warm so you can either cook and eat as you go, or keep them warm in the oven while you finish cooking them all.
7. Once you're ready, simply spread with Nutella, top with a few mixed berries and devour!
If you fancy even more decadence, why not crush some roasted hazelnuts and sprinkle on top too?!
We hope you enjoy creating our chocolatey twist on one of the nation's favourite foods and please let us know your favourite pancake toppings by sharing on our Facebook page!