Eco-Friendly Cleaning Products: A 2022 Guide
Many consumers are trying to play their part in helping the environment reduce plastic waste and make the planet greener. Whether it be swapping spray bottles for glass or replacing disposable kitchen sponges with reusable cloths. There are many things we can do that will have a positive impact on the environment. Many are aware of the effects of plastic, however, may not be aware of the impact harsh cleaning chemicals have on our environment. So, we have rounded up the top eco-friendly cleaning products of 2022 in our latest guide.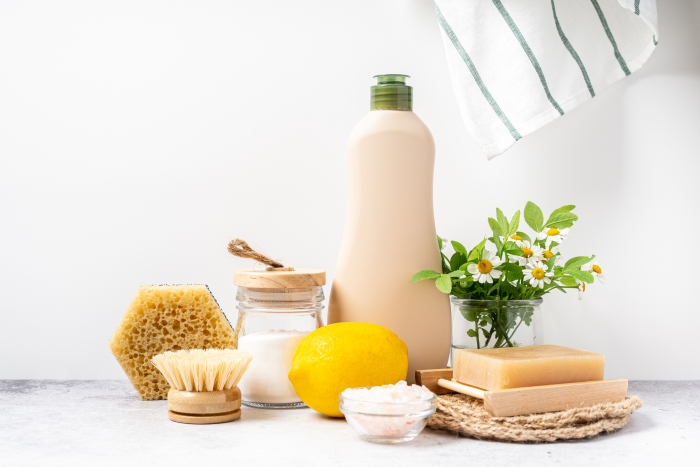 How do cleaning products affect the environment?
The biggest environmental impact of cleaning products comes from the chemicals which they contain. Many high street cleaning products contain toxic chemicals. These chemicals are used to break down grease and grime, to produce good cleaning results. However, Green Choices suggests these chemicals may pollute streams and rivers and may take a long time to degrade. Some cleaning chemicals may not break down at all and may enter the food chain, being eaten by aquatic creatures and perhaps eventually by us.
Are there alternatives to harsh cleaning chemicals?
The good news is there are many alternatives to harsh cleaning products with excessive packaging. So we've put together a list of the top eco-friendly cleaning products for 2022. You can relax knowing you can still have a sparkling clean home whilst being eco-friendly.
Eco-Friendly Cleaning products
There are many different products out there to choose from, but below are a few of our favourites:
Homemade Natural Products
If you would prefer to make your own cleaning products using natural ingredients, there are many different options out there. Our favourite natural ingredients for cleaning are baking soda, white vinegar and lemon. When vinegar and baking soda are mixed together, the acid breaks down the baking soda which releases carbon dioxide gas. This helps lift grease and dirt from the surfaces, making it the perfect product made up of entirely natural ingredients.
No-Added Caustic Oven Cleaning
There are many great eco-friendly products to clean your home with however, they all still require a little elbow grease. This may be time-consuming. At Ovenclean we tackle the hard work and grime for you. We have developed a series of unique, no-added caustic oven cleaning solutions that are exclusive to our specialists. Our no-added caustic solutions don't leave behind a chemical smell, and you can resume cooking again as soon as our deep cleaning service is complete. They are also completely safe for use around children and pets.