Eggstraordinary Easter Rocky Road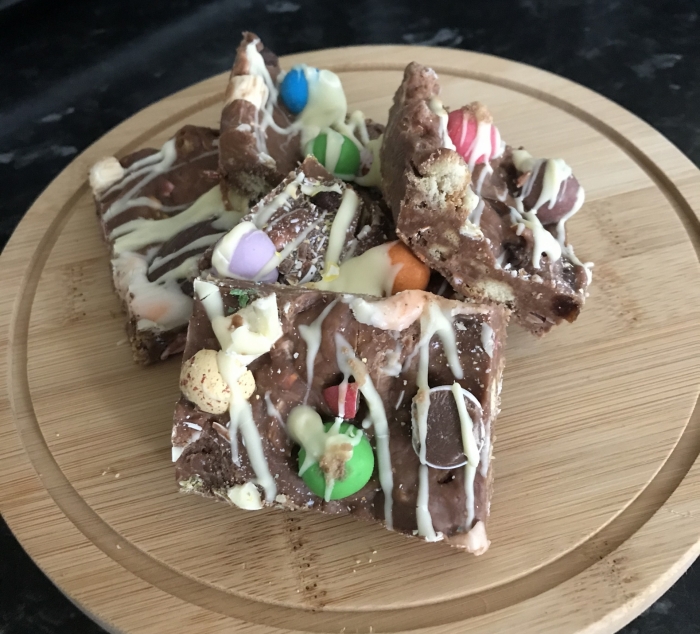 Looking for a no-bake Easter treat? Look no further, this recipe is quick, easy and you don't even need to turn the oven on. This Easter Rocky Road is a seasonal take on the classic Rocky Road.
Easter is the season of all things chocolate, so don't hold back on your Easter chocolate choices, we particularly love a combination of chopped Malteser bunnies and crushed mini eggs – yum! But the great thing about this recipe is you can tailor it to your favourite Easter chocolate.
Easter Rocky Road Ingredients
125g Unsalted Butter
400g Milk or Dark Chocolate
125g Golden Syrup
600g Easter Chocolate of choice (Mini Eggs, Creme Eggs, Malteser Bunnies, Smarties etc)
75g Marshmallows
125g Biscuits of choice (rich tea, digestives, Oreos etc)
200g White chocolate for decoration
 You will need
Baking paper
Square tin
Mixing bowl and spoon
Knife
Easter Rocky Road Recipe
Now you have gathered all your ingredients, the fun can begin!
Melt the butter, 400g of chocolate and golden syrup in a bowl. You can either melt the ingredients in the microwave on a low heat or in a glass bowl over steaming water on the hob. Be careful not to overheat or burn the mixture.
Once all the ingredients are melted, mix them together and leave them to one side to cool slightly.
While the mixture is cooling, chop the majority of the easter chocolate and biscuits into small chunks.
Put some of the easter chocolate to one side for decoration.
Once the mixture has cooled slightly, add the easter chocolate, marshmallows and biscuit chunks to the mixture and give it a good stir.
Gently melt the white chocolate in a microwave on a low heat.
Then empty the mixture into the tin, lined with baking paper. Spread the mixture so it is evenly distributed in the tin. Then decorate with the remaining easter chocolate and melted white chocolate.
Place the mixture in a fridge to set, this can take around 3 hours to fully set.
Once the rocky road has set solid, remove it from the tin and cut it into portions.
Then sit back and enjoy your delicious Easter treat or share it with friends and family as a homemade Easter gift.
If refrigerated, the rocky road should stay fresh for 7 days.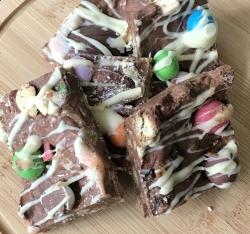 This is a delicious and simple recipe to make with your little ones, but if you are looking for more fun Easter activities, we have some eggciting ideas here.