Get Baking for Easter: Easter Nests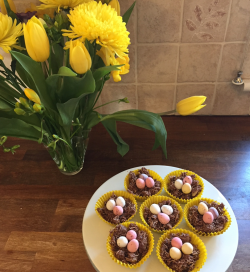 These Easter nests are delicious and the perfect thing to bake with the kids this long weekend!
Ingredients
Makes approximately 12
130g shredded wheat – broken into smaller pieces
250g milk chocolate
70g butter
2 tbsp syrup
1 bag of mini eggs
Method
Line a muffin tin with paper cases.

In a bowl over a pan of simmering water, melt the butter, chocolate and syrup together.

Place the broken up pieces of shredded wheat in a large bowl and pour over the slightly cooled chocolate mixture. Mix well.
Divide the mixture between the paper cases, pushing down in the centre to make a small well. Place 2 or 3 mini eggs into the centre of each nest.
Place in the fridge to cool for 1-2 hours if you can stop the kids diving in straight away!