Gluten-Free Easter Brownies 
A deliciously moist super chocolatey gluten-free easter brownie baked with Mini Eggs, the perfect treat this Easter. Plus don't be put off by this recipe's lack of gluten, it's still a crowd-pleaser! Dark chocolate is an absolute must in this recipe, ideally 85% cocoa solids, but 70% will still work well.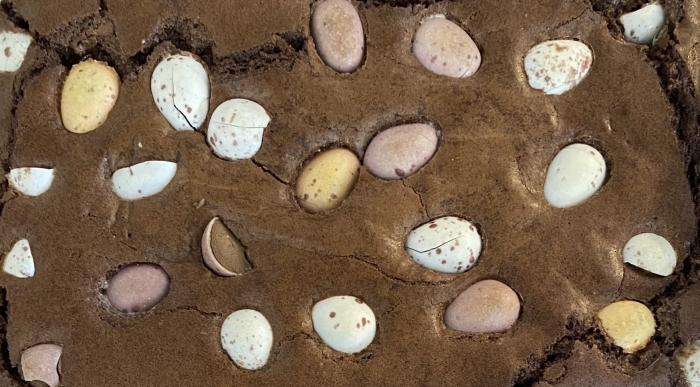 Ingredients
185g Unsalted Butter
185g Dark Chocolate
85g Gluten Free Plain Flour
40g Cocoa Powder
3 Large Eggs
200g Caster Sugar
75g Light Brown Soft Sugar
Bag of Mini Eggs
20cm Baking Tin
Gluten-Free Easter Brownie Recipe
Melt the butter and chocolate together, either in the microwave on a low heat or in a glass bowl over simmering water on the hob.
Once melted, leave the mixture to cool.
Preheat the oven to 180c/ 160 fan or gas mark 4.
Line the baking tin with non-stick baking parchment paper.
In a bowl combine the gluten-free flour and cocoa powder.
In a separate bowl, place the eggs, caster sugar, and light brown sugar.
With an electric whisk on max speed, whisk the eggs and sugar together for around 5 minutes until the mixture doubles in size and is pale in colour.
Then slowly fold the butter and chocolate mixture into the whisked eggs and sugar.
Once combined, gently fold the cocoa powder and flour into the mixture.
Then tip the mixture into the lined tin.
Decorate with mini eggs and bake in the oven for 25 minutes.
After 25 minutes, if the mixture is still 'wobbly', then give it an extra 5 minutes to cook.
Plus, this recipe can be easily adapted into muffins, simply put the mixture into muffin cases instead of a 20cm tin.