National Carrot Day: Carrot Cake Recipe
Nowadays, there is a national day for everything! National Carrot Day may not sound that exciting, but when you think of Carrot Cake, who wouldn't be happy!?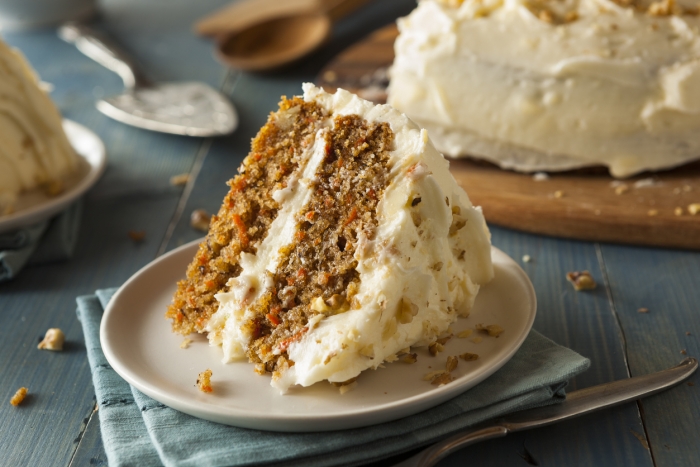 In order to celebrate the occasion, check out our easy Carrot Cake recipe for the best treat this National Carrot Day.
Ingredients:
For the Cake
200g self-raising flour
2 tbsp ground cinnamon
320g caster sugar
230ml vegetable oil
3 eggs
230g grated carrot
100g ground walnuts
For the Frosting
225g Philadelphia original
115g of butter (unsalted)
240g icing sugar
1 tsp vanilla essence
Method:
Mix together the flour, cinnamon and caster sugar for a smooth powder mix.
Add in the oil and eggs. Beat the mixture until it is all mixed together well.
Add the grated carrots and ground walnuts. Be sure to mix these thoroughly, to ensure the carrot is evenly spread through the mixture.
Transfer the mixture into your greased 20cm baking tins, and bake at 180C for 20 – 25 minutes. Check your cake is cooked through, by pressing the back of a spoon on the top. If the cake bounces back up, it is cooked!
Meanwhile, you can begin to make the frosting:
Cream together the Philadelphia and unsalted butter.
Add in the icing sugar and vanilla essence, and gently mix together until you get a thick creamy mixture (you can add more icing sugar if needed)
Finish off your cake, by decorating with your cream cheese frosting, and any additional decorations you may wish to add.
Did you know, a clean oven can increase the efficiency and performance when baking? If you're planning on baking a cake soon, call us on 0800 840 7127, or complete our online form for your free quote.