Smart Ovens & The Future of Cooking
Most of us bake, roast, and grill our food using a technology that was invented 5,000 years ago for drying mud bricks: the oven. But what's coming next?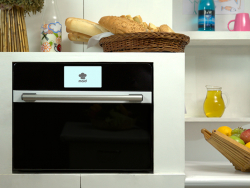 Modern ovens, covered with shiny stainless steel or sparkling enamel, certainly look the part and fit seamlessly into contemporary kitchen interiors. But on the inside very little has changed, despite many of the big brands in oven manufacturing having spent millions of pounds in research and development and a great many years trying.
And with technology and the internet influencing many everyday appliances, it seems that it's going to be brains, rather than brawn, that are to define the oven of the future. We here at Ovenclean have done some research into the latest innovations and what's coming next and compiled a couple of standout smart oven contenders.
MAID Oven
While the lines continue to blur between ovens and combination microwaves, the Kickstarter-fueled MAID Oven hopes turn even the worst cook into a chef. Its concoction of microwave, grill and convection oven, coupled with numerous technological bells and whistles, help categorise it as something of a step forward.
Clean, modern looks mask some interesting technology, including touch screen controls, step-by-step voice instructions and even on-screen visuals of how to best cook your meal, streamed straight from the web.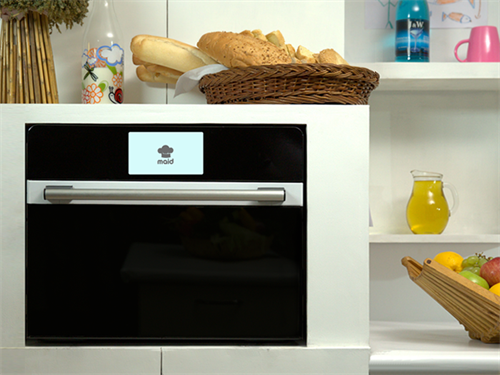 All of this is to be powered by an online recipe store that hosts crowd-sourced recipes from food lovers around the world. The headline features overshadow some of the more curious functionality, with the oven actively analysing your cooking habits in order to provide 'intelligent personalisation' in combination with a related mobile app that tracks your physical activity. The results could be interesting! The MAID Oven is set to be released in November 2015.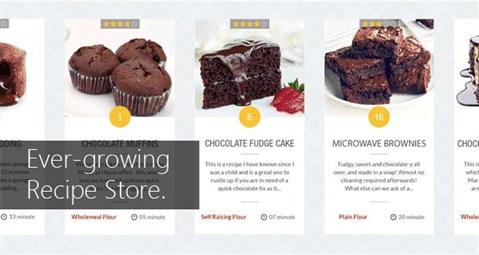 Miele HR 1956 DF GD 48″ Dual Fuel Range
Not to be outdone by their new crowd-sourced competition, relative old-timers like Miele aren't messing around either. Their new top of the range 48-inch Dual Fuel Range HR 1956 boasts a three-door setup that includes two ovens, six gas burners, a griddle, and a warming drawer.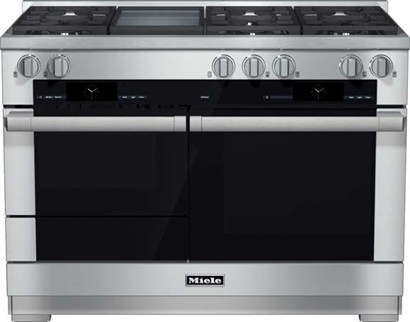 It has much of the internet connectivity bells and whistles of the MAID Oven, thanks to collaboration with IBM, which means more recipes than you can shake a wooden spoon at, as well as step-by-step cooking instructions that goes as far as telling you when to turn your meat, or even when it's time to add the next ingredient!
The German firm is planning on releasing it exclusively to the US market initially for a cool $14,000, and for that price we're hoping it cleans itself!
Brains, brawn, convection or microwave – if you need help giving your oven its first clean of 2015, call 0800 840 7127 or, complete our online form.