Spiced Pumpkin Cupcakes with Maple Syrup Buttercream
These super tasty pumpkin spiced cupcakes are easy to make and finished with a delicious fluffy maple syrup buttercream. They are a must-try Autumn treat!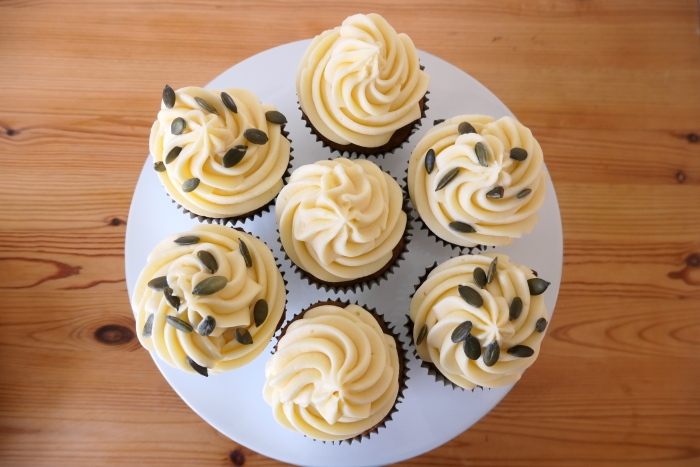 Ingredients:
180g self-raising flour
20g ground almonds
1 tsp ground cinnamon
1 tsp ground ginger
1 tsp mixed spice
1 tsp ground nutmeg
pinch of salt
210g soft brown sugar
125g butter, melted and cooled slightly so not hot
2 x eggs
400g pumpkin puree (you can buy this or steam a small pumpkin, skin removed and cut into chunks, then blitz it to get it smooth) room-temperature
Buttercream:
200g Butter
400g Icing sugar
2 tbsp milk – you may not need it all
2 tbsp maple syrup
Pumpkin seeds (optional)
Equipment: 12 x muffin cases and tray
Method:
Preheat the oven to 180 degrees C / Gas mark 4. Line the muffin tray with paper cases.
Melt the butter and put it to one side to cool.
Sift together the flour, spices and salt into a bowl.
Beat together the sugar and eggs, add the melted butter and pumpkin puree and continue to mix until smooth.
Add the flour mixture to the sugar and egg mixture, and combine.
Divide the mixture between the cases and bake in the oven for 20-25 minutes, or until the tops spring back when touched.
Leave to cool completely.
To make the buttercream, make sure the butter is room temperature and beat together with the icing sugar until fully incorporated. Add the maple syrup and mix together well. If the mixture seems stiff, add a little milk and keep adding until you reach the desired consistency.
You can then pipe or use a knife to top each muffin with the buttercream, add a few pumpkin seeds, or a pinch of cinnamon, if you like.
Enjoy with a cuppa!
With all that pumpkin, one of these has surely got to count towards one of your 5 a day!