Triple Chocolate Brownie Recipe
A survey by 'Good to Know' recipes estimated that 91% of the population will be in the kitchen doing some Easter baking over the Bank Holiday, with over 40% of you opting to bake sweet treats such as Simnel cake, hot cross buns and Easter nests.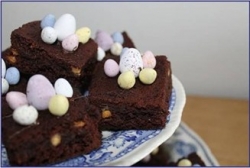 Easter is a time for the family to come together, which is reflected by the fact that the most popular Easter lunch is a traditional family roast. So, we've come up with a child-friendly Easter baking recipe that can perfectly complement a traditional roast – Triple chocolate Easter brownies!
This recipe is quick, easy and fun to make as you can decorate with as many toppings as you like, so is an ideal Easter baking recipe for children.
You will need:
Ingredients:
8oz Caster Sugar
4oz Butter
2 Eggs
2oz self-raising Flour
2oz Cocoa
2 tbsp Golden Syrup
White Chocolate Chips
Mini eggs or whatever you want to decorate!
Method:
Turn oven to Gas 4 / 180°C and grease the baking tray then line with greaseproof paper.
Cream together the butter and sugar, then add the eggs, flour, cocoa and golden syrup and fold together until combined. Mix in the chocolate chips.
Spoon mixture into a baking tray and smooth into the edges so the top is fairly level.
Bake for approximately 35-40 minutes. Remove from the tin and allow to cool. Once cooled cut into 9/16 pieces depending on how big you want them.
Decorate as you wish and enjoy!
We hope you enjoy this delicious Easter baking recipe for children! If you're looking for some other ways to entertain the kids this Easter holiday aside from Easter baking, take a look at another one of our blogs, Easter activities for kids, which will give you plenty of ideas for some Easter holiday activities!
Did you know, a clean oven will perform better when you're baking? If your oven is in need of a professional oven clean, call us on 0800 840 7127, or complete our online form for your free quote.